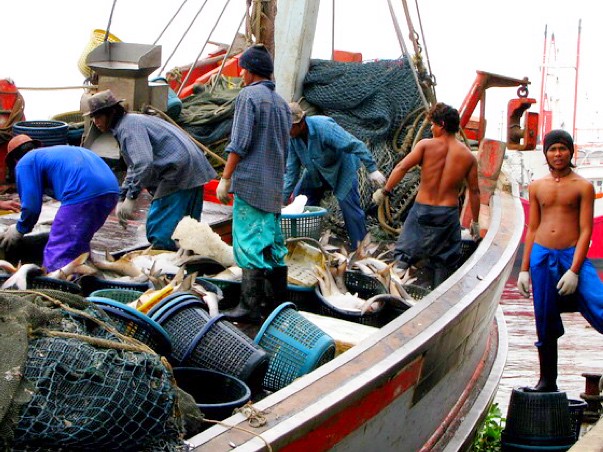 In recent weeks, Thailand experienced a new wave of COVID-19 cases originating from a large seafood market near Bangkok. The Prime Minister of Thailand wasted no time in blaming the outbreak on human smuggling networks and illegal immigrants. Most of those working at this particular market are from neighboring Myanmar. This ongoing outbreak brings Thailand's fishing industry back into focus. The industry faces international pressure to address findings of horrific working conditions, unfair wages and forced labor. This article discusses the importance of the Thai fishing industry, the human rights abuses uncovered in recent years and what some are doing to address these issues.
Thai Fishing Industry
The Thai fishing industry exports more than $6 billion worth of products annually and employs more than 800,000 people. It is the world's third-largest seafood exporter and the world's leading exporter of shrimp. The industry came under fire in the E.U. in 2014 due to reports uncovering widespread forced labor, worker abuses and environmental degradation in the industry.
Burmese immigrants represent a majority of those working in the Thai fishing industry, followed by a smaller percentage of Thais, Cambodians and Laotians. Workers on fishing vessels are exclusively men, while men and women each work in the seafood processing sector. There is a mixture of regular and irregular workers, which makes ascertaining the true number of immigrants in the fishing industry difficult. About 3 million labor migrants legally live in Thailand and an estimated two million more are undocumented.
Poor Working Conditions
Working conditions on Thai fishing vessels are notoriously challenging. In multiple reports, workers discuss working 18-20 hour days with inadequate food, water and medical supplies. Between 14% and 18% of migrants report being victims of forced labor. Among these victims of human trafficking, over half report seeing a coworker killed in front of them. Threats from employers and beatings are common, along with working at sea for years at a time without being allowed to leave the vessel. These conditions affect all nationalities in the Thai fishing industry, but undocumented immigrants are the most vulnerable to mistreatment.
Solutions
Although much work is necessary to address issues in the Thai fishing industry, Thailand has been largely receptive to suggestions that organizations such as the ILO and other national and international human rights NGOs have made. The government has improved legal frameworks and compliance measures for fishing companies. Additionally, wages have increased and housing conditions are improving, according to respondents in a recent ILO survey released in 2020.
Specific laws that have gone into place include the elimination of recruitment fees that workers pay, banning the practice of employers withholding identity documents from workers and banning child labor in the fishing industry. Going forward, regional compliance will be essential in enforcing these legal frameworks. Thailand is attempting to set that precedent in the ASEAN region. In response, the E.U. lifted its "yellow card" rating for the industry and continues to accept seafood imports.
The Labor Protection Network
For more than 15 years, the Labor Protection Network (LPN) has been spearheading efforts to clean up the Thai fishing industry. LPN conducts direct action raids on illegal fishing boats, provides short- and long-term shelter for victims and educates children in its centers. Additionally, LPN has brought international attention to the industry through its advocacy campaigns. A notable part of these efforts is the appearance of co-founder Patima Tungpuchayakul in the documentary "Ghost Fleet." In 2017, Tungpuchayakul received a nomination for a Nobel Peace Prize for her efforts in human rights.
Each year, LPN also provides legal assistance to more than 3,000 migrants. It provides assistance in Thai, Burmese, Khmer or Lao, depending on migrants' needs. Victims of human trafficking in Thailand have a right to government protection and legal assistance. LPN plays a crucial role in identifying victims of human trafficking that grants these protections, as the Thai authorities sometimes struggle to identify victims through its enforcement procedures.
Through the work of the government, LPN and other NGOs, the Thai fishing industry is improving its standards to meet international demands. With this spotlight on the human rights issues involved in the industry, funding and monitoring remain critical to building on current progress.
– Matthew Brown
Photo: Flickr
https://borgenproject.org/wp-content/uploads/logo.jpg
0
0
Jennifer Philipp
https://borgenproject.org/wp-content/uploads/logo.jpg
Jennifer Philipp
2021-03-13 07:30:17
2021-03-09 12:17:38
Cleaning Up the Thai Fishing Industry