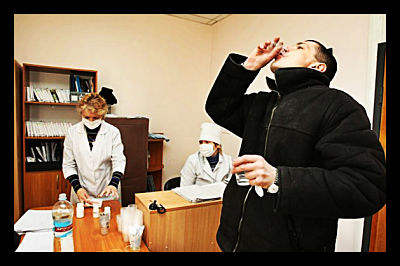 For the last decade, the European Union (EU) and other organizations and coalitions like the United Nations (UN) have delivered significant results in treating and preventing AIDS-related illnesses in the developing world. For example, according to the World Health Organization, (WHO) deaths from AIDS in Ethiopia have decreased by over 45%. In countries like Zimbabwe and Botswana, this number is over 60%.
Unfortunately, over the same timespan, there has been a considerate increase in the rate of deaths from AIDS in Eastern Europe. Even though the number of cases of HIV/AIDS in Eastern Europe is lower than in African nations, any percentage increase is great cause for concern. As a result, many are urging the European Union to review their objectives and to improve treatment and prevention of this disease in not only developing countries, but Eastern Europe as well.
In Ukraine, there has been a 144% increase in the number of AIDS-related deaths, and in Belarus, it was an 1100% increase. These startling statistics have led many to criticize the European Union in their decision to concentrate funding for response to HIV/AIDS in developing countries instead of Eastern European nations. The majority of EU funding for the treatment and prevention of AIDS currently goes to developing countries.
Due to the rise in infections of AIDS in European Nations over the last decade, however, various organizations are placing pressure on the European Nation to review the appropriation of funding that goes to fight this disease, especially in Eastern Europe, Russia, and Central Asia.
In addition to inadequate funding for middle-income countries like Ukraine for HIV/AIDS response, there exist many problems in directly dealing with this increasing disease crisis. Many of these countries have religious taboos of HIV, since many times people relate sexually transmitted diseases to promiscuous sexual practices. In addition to this stigmatization, since many cases of disease transmissions are due to unsafe drug use and needle sharing, the government will have to exhibit courage and make a stance in supporting sterile needle programs for drug users. This type of support is unheard of in many religiously conservative countries.
Many affirm that it is important for the European Union to recognize that it is also important to invest in middle-income countries, because they also struggle with infectious diseases like those in developing countries. The stigma and discrimination that the people living in Eastern Europe face may even make it harder for them to receive treatment. Nevertheless, the increase in HIV transmissions in any part of the world is unacceptable as the international community attempts to treat, prevent, and cure HIV/AIDS and many other diseases in the world.
– Rahul Shah
https://borgenproject.org/wp-content/uploads/logo.jpg
0
0
Borgen Project
https://borgenproject.org/wp-content/uploads/logo.jpg
Borgen Project
2013-08-23 04:31:38
2017-11-30 10:46:27
EU Fights Against AIDS in Eastern Europe