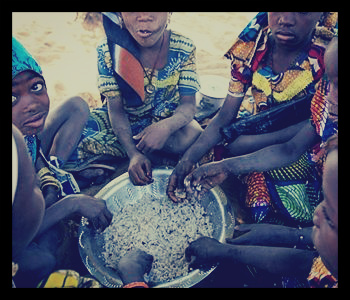 Each year, 3 million children die from undernutrition.
There are more than 165 million children under the age of five suffering from stunted growth, a marker for malnutrition.
In the media, malnourished children are often portrayed as being skinny with protruding stomachs. Yet, a protruding stomach is not the only marker for undernutrition. In fact, undernutrition comes in many different shapes and sizes. Stunted height, especially before the age of five, is a marker  "of multiple deprivations regarding food intake, care and play, clean water, good sanitation and health care," according to The Guardian.
Children that face undernutrition in the first 1,000 days after conception are unable to fully, properly develop. Brain-synapse development and the development of the immune system are especially vulnerable and incorrect development of these major parts of the body can have long-lasting and serious effects on a person. Further, undernutrition leads to the deaths of 1 in 3 children and 1 in 5 mothers in developing countries.
The European Commission has recently launched a new effort that will hope to decrease the number of stunted children by 7 million by addressing malnutrition by the year 2025. This will be done through the provision of funds from donors – and from the EU humanitarian and development budgets – as well as by making this a global movement. Everyone must get involved to combat malnutrition, which is usually the result of impoverished situations that make it hard to access food, healthcare, clean water and sanitation, and education.
– Angela Hooks
Sources: New Europe, The Guardian
Photo: UN
https://borgenproject.org/wp-content/uploads/logo.jpg
0
0
Borgen Project
https://borgenproject.org/wp-content/uploads/logo.jpg
Borgen Project
2013-03-17 12:01:00
2020-05-26 00:16:41
Combating Undernutrition