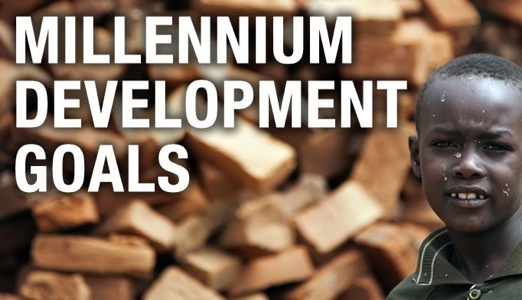 At the Millennium Summit in 2000, history was made when a record number of world leaders gathered to adopt the U.N. Millennium Declaration, committing nations to cutting extreme poverty in half through the Millennium Development Goals (MDGs) by 2015 and eradicate poverty through the Sustainable Development Goals (SDGs) by 2030.
Through the agreement, the MDGs target different dimensions of poverty including hunger, disease, insufficient shelter, gender inequality, global education and environmental sustainability.
With an expiration date of December 2015, the achievements made through the MDGs provide evidence that poverty can be eliminated worldwide by 2030.
MDG 1: Cut Extreme Hunger and Poverty in Half
Since 1990, the amount of people living on less than $1.25 per day decreased from 1.9 billion to 836 million in 2015. While extreme poverty was cut in half, extreme hunger narrowly missed the mark, dropping from 23.3 percent to 12.9 percent.
MDG 2: Achieve Universal Primary Education
Primary School Enrollment has seen a slight rise, increasing from 83 percent in 2000 to 91 percent in 2015.
MDG 3: Eliminate Gender Disparity in Education and Empower Women
Since 1990, approximately two-thirds of developing countries have achieved gender unity. In Southern Asia, the primary school enrollment ratio favors girls over boys in 2015.
MDG 4: Reduce Child Mortality by Two-Thirds
The child mortality rate decreased from 12.7 million in 1990 to 6 million in 2015. In addition, the measles vaccine compared to 2000 covered almost 10 percent more children worldwide.
MDG 5: Reduce the Maternal Morality Rate by 75 Percent
Compared to 1990, the maternal mortality rate has been cut in half, narrowly missing the 75 percent benchmark.
MDG 6: Combat HIV/AIDS, Malaria and Other Diseases
Since 2000, the number of new HIV infections decreased by 40 percent, dropping from 3.5 million to 2.1 million in 2013.
MDG 7: Increase Environmental Sustainability
In 2010, the goal to increase access to clean water was achieved five years early. Since 1990, 2.6 billion people have gained access to improved drinking water.
MDG 8: Develop an Open Partnership for Development
Overseas development assistance from developed nations to developing countries increased 66 percent. With the expansion of technology, Internet infiltration increased significantly from 6 percent in 2000 to 43 percent in 2015.
– Alexandra Korman
Sources: The Guardian
Photo: NaijaLog
https://borgenproject.org/wp-content/uploads/logo.jpg
0
0
Borgen Project
https://borgenproject.org/wp-content/uploads/logo.jpg
Borgen Project
2015-11-15 09:33:27
2020-06-24 19:50:29
MDGs: What They Achieved After 15 Years