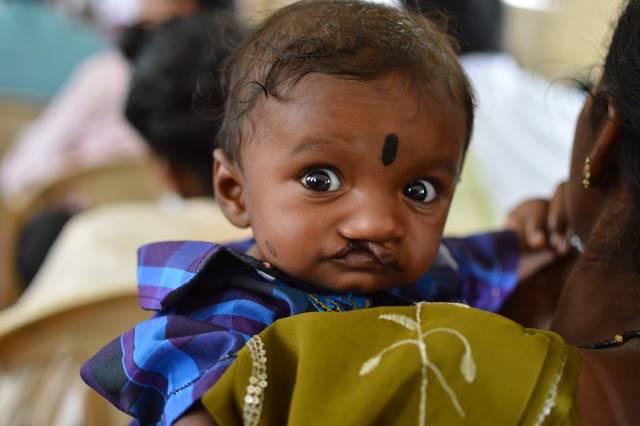 More than 170,000 children in developing countries are born with cleft lips or palates. Children born with clefts in developing countries often go untreated due to a lack of trained surgeons and facilities as well as the high cost of corrective surgery. Without surgery, children struggle to eat, breathe, hear and speak. Smile Train is a nonprofit that works to provide life-enhancing services to children with clefts in developing countries.
Cleft Lips and Palates
Cleft lip occurs when the lip does not completely form during fetal development. On the other hand, cleft palate occurs when the roof of the mouth does not completely close during fetal development, leaving an opening that can extend into the nasal cavity. Clefts can also occur in varying degrees.
The cause of cleft lip and palate is unclear but research shows that both genes and the environment are contributing factors. In addition, several syndromes are commonly associated with cleft lip and palate. This includes Down's syndrome and Stickler syndrome.
Cleft deformities can result in a range of issues such as feeding difficulties, dental problems, hearing impairments, speech impediments and breathing struggles. Cleft surgeries and other essential cleft services are imperative because they significantly improve a child's quality of life.
Smile Train's Mission
Smile Train is the world's largest organization that focuses on helping children with clefts in developing countries. It works on a sustainable model that goes beyond simply providing cleft surgeries. It also works to provide other essential services to address the struggles that come with cleft lips or palates. These services include nutritional support, dental care, orthodontic treatment and speech therapy. Smile Train works in more than 70 countries and has helped more than 1.5 million children in the past 20 years.
Smile Train's sustainable model focuses on providing training, funding and resources to empower medical staff in developing countries to provide free cleft surgeries and care in their very own communities. Once these doctors are trained, a ripple effect occurs as they train more doctors within their communities and beyond. This means that children with clefts will receive quality care and treatment for years to come.
A Smile Train Story
During the early stages of the COVID-19 pandemic in the Philippines, a little girl named Elizabeth was born with a cleft lip. Financial difficulties made it impossible for her parents to afford the necessary treatment and care for her. The family learned about Smile Train partner, Tebow CURE. Through the assistance of Smile Train donors, Elizabeth was able to have surgery at no cost. The surgery helped to ensure that Elizabeth has a good quality of life ahead of her.
Smile Train gives parents in developing countries renewed hope that their children will lead healthy and productive lives despite difficulties.
– Olivia Bay
Photo: Flickr
https://borgenproject.org/wp-content/uploads/logo.jpg
0
0
Kim Thelwell
https://borgenproject.org/wp-content/uploads/logo.jpg
Kim Thelwell
2021-03-14 01:30:18
2021-03-10 06:17:04
Smile Train Improves the Lives of Children With Clefts