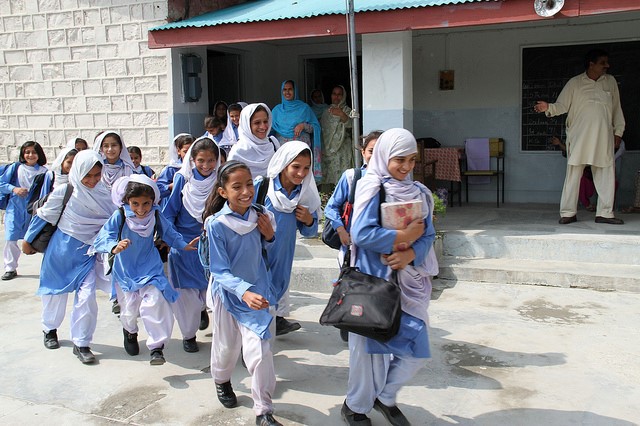 Pakistan, a country of 220 million people, currently holds the "world's second-highest number of out-of-school children," according to UNICEF, equating to about 22.8 million children. Some factors that contribute to this high out-of-school rate are gender inequality, socioeconomic status and location of residency. USAID and UNICEF have implemented several education initiatives in Pakistan in recent years to help address the education crisis.
Pakistan's Education Overview
According to a  study by Pak Alliance for Maths and Science based on data from the  Pakistan Social and Living Measurements Standards survey 2019-20 (PSLM), 32% of Pakistan's children from age 5 to 16 years old are not in school. There are many reasons for this, such as gender norms, which assert that females' sole roles should involve household chores and caregiving. Poverty also plays a role as many impoverished families simply cannot afford to send their children to school. Area of residency also factors in —  children who live in rural areas, such as the province of Balochistan, do not have access to a school within walking distance.
In addition to these factors, Pakistan's education system faces several barriers that intensify the difficulty of completing a full education,  such as deteriorating school facilities that lack proper sanitation and electricity. In addition, underqualified teaching staff, widespread corruption and thousands of staff who do not show up for work leave children unable to receive a proper education.
USAID Initiatives
USAID has partnered with Pakistan's government to increase access to education, especially for out-of-school children, and improve the quality of education in Pakistan overall. Given that the quality of teachers significantly impacts students' education, USAID prioritizes the training of educators. In partnership with Pakistan's Higher Education Commission, USAID established "two professional teaching degree programs."
USAID has also provided training to educators "on how to teach reading" to students using appealing and age-appropriate materials in local languages. USAID has also created libraries in thousands of Pakistani classrooms to encourage literacy. Since 2013, USAID has given training to "more than 46,000 teachers and school administrators." USAID also prioritizes developing education policies that cater to "local needs," which will ultimately improve community involvement and enrollment in schools.
Since its education partnership with Pakistan in 2013, USAID has constructed "17 faculties of education" for teacher training and "built or repaired more than 1,600 schools" throughout Pakistan. USAID's assistance has benefited more than 2 million primary school students in Pakistan and "improved oral reading fluency for 26% of grade-two graduate students." USAID also gave around 19,000 scholarships to outstanding students so they can "attend tertiary education."
UNICEF Initiatives
Since 2016, UNICEF has committed to reducing the number of out-of-school children in Pakistan. The organization is helping to strengthen Pakistan's Early Childhood Education (ECE) systems "to improve school readiness," reduce dropout rates and encourage school completion. Children from impoverished and vulnerable communities will see the most benefits from these efforts.
UNICEF has committed to promoting educational awareness to parents about "early learning, the importance of on-time enrolment and the lack of social protection schemes," which will help break down barriers to students completing their education. Lastly, UNICEF's education initiatives in Pakistan promote discussions on the Pakistani government's "education budgeting and public financing" to highlight areas in need of improvement that can help strengthen Pakistan's education sector as a whole.
Looking Ahead
These initiatives are essential to improve Pakistan's poverty rate, which stands at 39.3% as of 2021 because education is a proven path out of poverty. According to the Global Partnership for Education, 420 million people would rise out of poverty through secondary education and "one additional year of school can increase a woman's earnings by up to 20%."
The education initiatives in Pakistan have already begun to address the education crisis and will continue to do so in the coming years. These efforts will encourage more enrollments and give way to higher school completion rates despite the socio-economic disparities that many impoverished children face, which will ultimately reveal itself through economic growth in the nation and a broader job market.
– Isabella Elmasry
Photo: Flickr
https://borgenproject.org/wp-content/uploads/logo.jpg
0
0
Saiesha
https://borgenproject.org/wp-content/uploads/logo.jpg
Saiesha
2022-03-26 07:30:09
2022-03-22 04:26:41
Education Initiatives in Pakistan