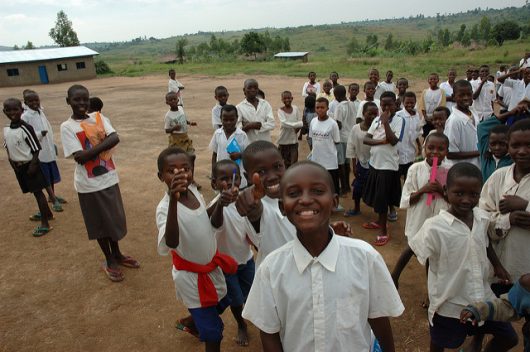 Situated in central Africa, the Democratic Republic of the Congo is home to people belonging to over 200 African ethnic groups, with the majority identifying amongst the Bantu peoples. Though only comprising 2.25% of its GDP, education in the Congo remains a significant priority. In fact, education maintains such significance that the country's constitution provides for free and compulsory primary school education.
Since 2007, the Congo has experienced massive growth in the number of students completing their primary school education. Although only 52.9% of young children completed their primary school education ten years ago, through rapid improvement and additional funding, the nation secured 66.8% of the population's completion in 2013. In fact, much of this change related to girls' access to education: while only 42.8% of girls completed primary school in 2007, that rate climbed to 60% by 2013. Essentially, then, education in the Congo prioritizes the needs of all students, regardless of their gender.
The United Nations Educational, Scientific, and Cultural Organization (UNESCO) has assisted the Congo in implementing the BEAR Project. The project's overarching goals are to help young people receive technical vocational education and training in order to enter the job market and to improve equity and access to educational opportunities. Dividing $10 million amongst five African nations, the BEAR project, which lasted five years, ultimately had a tremendously positive impact on the Congo; it actually managed to reach over 200 young people there, ensuring that they had access to basic educational necessities.
The Congo provides students with a variety of opportunities in terms of their education. Though all students begin in primary school, students can ultimately decide whether to pursue a secondary education or a vocational education. This sort of choice allows them to decide whether they would prefer to explore trades or academia, giving them a tremendous amount of intellectual freedom.
The structure of education in the Congo is further conducive to higher education. Though the nation maintains many privately and publicly funded polytechnic colleges and specialized universities, there are four main state-run institutions: the Universities of Goma, Kinshasa, Kongo and Lubumbashi. The oldest—the University of Lubumbashi, founded in 1955—prides itself on offering courses in departments such as agronomy, economics, medicine, law, psychology, medicine and commerce.
Clearly, the Congo prides itself on maintaining quality education for students and for striving to provide its young people with equal opportunities. Though the system itself remains imperfect, continued funding and an emphasis on education will undeniably have significant economic and social benefits.
– Emily Chazen
Photo: Flickr
https://borgenproject.org/wp-content/uploads/logo.jpg
0
0
Borgen Project
https://borgenproject.org/wp-content/uploads/logo.jpg
Borgen Project
2017-07-28 07:30:37
2020-06-29 07:56:57
The Importance of Free and Compulsory Education in the Congo