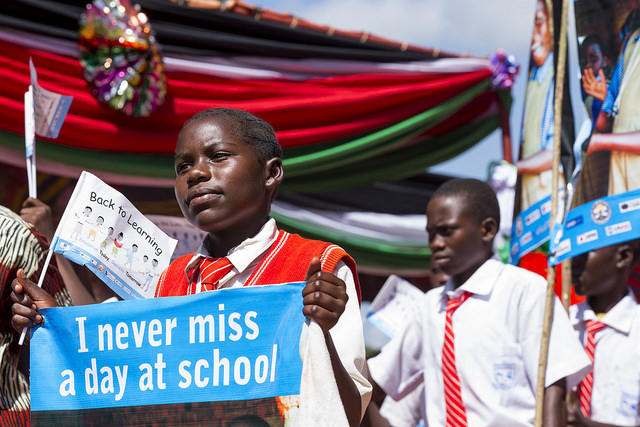 According to ReliefWeb, Sudan has the highest proportion of children not in school, with more than 70 percent of children not getting an education. In this time of war, where over one-third of schools are not suitable for educational instruction due to their lack of infrastructure and location, children are being forgotten. War Child Holland has stepped up to the plate to give these children easier access to education through E-Learning Sudan.
E-Learning Sudan is an interactive learning game that is accessed through the child's tablet and provides the stability and structure that a school in Sudan cannot. The most important aspect is that it focuses on the child's creativity through an entertainment platform. As it is a game, it prompts the child's competitive side, while still educating them through a program that is flexible and simple and allows their skill level to progress.
To give even more acclaim to the program, during the Dutch Game Awards on September 30, 2015, War Child Holland won the Best Co-Production award in collaboration with Ahfad University in Khartoum, Dutch Research Institute TNO and Flavor (game developer).
War Child Holland is an independent and progressive global nongovernmental organization (NGO), devoting its funds towards a harmonious future for those children and youth affected by armed conflict. According to the Huffington Post, there was a large-scale trial run in operation until March 2015, which involved 600 children in 19 villages. It aimed to generate a body of research that would clarify the impact of the project and scale it up.
According to War Child Holland director Bernard Uyttendaele, the program began with three years of the mathematics curriculum and will be expanded to other subjects. "Designed for scale, the long-term aim of the project is to enable children to develop the necessary skills and knowledge to acquire a Certificate of Primary Education. Education provides children with the opportunity to shape their own future. Communities affected by conflict prioritize education. This promising project responds to this, providing quality education opportunities directly where they are needed," he said.
There was a research study conducted in 2016 by Hester Stubbé and his team on the effectiveness that E-Learning Sudan has had on the children. Two pilot programs revealed that E-Learning Sudan increased mathematic ability significantly and maintained the children's motivation to continue to learn. Overall, it proves how extensively beneficial such a program is for children in at-risk countries. According to the study, the game is designed so that "the students are helped to master each learning unit before proceeding to a more advanced learning task."
The designers also asked children to submit drawings of their environment: clothes, food, animals, plants and family. From there, the game design was created with the cultural background in mind. This makes it easier and more familiar for the children to focus their energy on learning the mathematical concepts. E-Learning Sudan has the potential of transforming the way that education during disasters is delivered. UNICEF chose this project back in 2015 as one of the only five which would be showcased globally as an educational innovation project. Its partners are now all collaborating in the development of conduits to accomplish the promise that such an initiative has of supplying children with education in affected countries.
– Nicole Suárez
Photo: Flickr
https://borgenproject.org/wp-content/uploads/logo.jpg
0
0
Borgen Project
https://borgenproject.org/wp-content/uploads/logo.jpg
Borgen Project
2017-12-11 09:09:25
2020-01-03 19:49:35
E-Learning Sudan Offers Education in Conflict