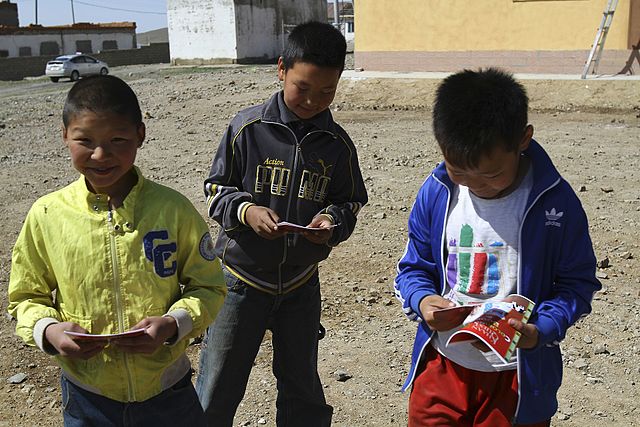 After the collapse of socialism in the late 80s and early 90s, education for rural Mongolian children suffered due to a lack of financing for the country's rural schools. Fortunately, changes in government policy and assistance from NGOs over the last 15-20 years have slowly but surely improved education in rural Mongolia.
Poverty Among Mongolian Herders
As of 2021, about 31% of Mongolia's population lived in rural areas and as much as 40% of the population lives a herding lifestyle. In 2020, the World Bank pegged Mongolia's rural poverty rate at 31%, with herders accounting for three-fifths of the rural poor.
Rural Education Issues
While basic education in Mongolia (grades 1 through 12) is free under the country's constitution, attending school can be difficult for rural families.
Herder families struggle because they move around several times a year to find pastures for their herds. As such, many children move into dormitories at boarding schools. During Mongolia's socialist era, the country was able to establish a well-functioning and convenient boarding school system for rural children, but after the collapse of socialism, authorities neglected rural development, which resulted in poorly maintained boarding schools.
Between 1990 and 1992, "public spending on education as a share of GDP" decreased by close to 50%, many rural schools suffered bankruptcy and many educators abandoned their professions due to lack of payment.
Because of financial neglect, about one-fifth of dormitories do not have proper heating and lack water, sanitation and hygiene (WASH) facilities, according to data from 2015. For example, a dorm in Tarialan soum (a part of a province) in Northwest Mongolia did not have a single running toilet, so students had to use a "dirty, cold, bad-smelling" pit latrine outside, with no way to wash their hands with clean water. In 2014, UNICEF established indoor toilets and hygiene facilities in the dormitory.
Another problem with education in Mongolia is that many teachers in rural schools graduate from "low-quality private teacher training institutes," making them underqualified for teaching.
Rural Mongolians also have low access to early childhood education (ECE) services. While progress has been visible over the last few decades, herder children's access to ECE services remained low as of 2016. According to a UNICEF fact sheet from 2020, ECE attendance is 1.5 to 2.2 times lower among 2-4-year-olds in rural areas than in urban ones and 19% to 26% lower among children aged 5.
These issues contribute to a gap in education quality between rural and urban schools. Due to high dropouts in the mid-90s, in 2013, the level of literacy among males aged 15-24 stood at 98.4% in urban areas, but dropped to 88.2% in rural areas. The percentage of out-of-school primary school children in 2018 stood at 5% in rural areas compared to 2% in urban areas and children from herder households accounted for around 68% of out-of-school children in 2013/2014.
Improving Facilities
To improve access to education in rural Mongolia, the government built 37 new dormitories across the country between 2014 and 2017 and planned to create an additional 19 between 2018 and 2019. In 2015, Mongolia established specific standards for WASH facilities in schools and dorms to improve conditions.
In addition, the Asian Development Bank (ADB) provided a grant in 2015 to renovate 12 dormitories in the Govi-Altai, Uvs and Zavkhan aimags (provinces) in western Mongolia, as a part of the Improving School Dormitory Environment for Primary Students in Western Region Project. The renovations included insulating buildings, installing "safe electric systems" and establishing more WASH facilities.
Supporting Teachers
Mongolia's government has worked since 2006 to enhance financial support for rural teachers. The 2006 and 2016 amendments to the Law on Education give financial support to teachers in rural schools and kindergartens. Furthermore, a "teacher salary reform" in 2007 helped to improve the income inequalities between rural and urban teachers.
Outside of the government, the World Bank created the Rural Education and Development (READ) Project (2007-2013) to improve the standard of education in rural schools. The training of educators and principals formed one of the project's objectives. A total of 4,144 rural primary educators and 383 school directors received training to improve teaching skills and strategies. The project also established a "local professional development network" with 95 main schools and 178 mentor educators.
Enhancing Access to Early Childhood Education
To provide ECE services for rural Mongolians, Save the Children, a child rights organization operating in Mongolia since 1994, alongside the World Bank and Japan Social Development Fund, implemented the project Improving Primary Education Outcomes for the Most Vulnerable Children in Rural Mongolia.
The project operated from 2012 to 2017 in four aimags (Arkhangai, Uvurkhangai, Dornod and Sukhbaatar). The program enabled the completion of the Home Based School Preparation Program for around 4,000 5-year-old herder children. The project utilized mobile learning kits with educational toys, activity books and guidebooks. The program was so effective that primary school enrollment in the four aimags rose from 72.8% in 2012-2013 to 86% in 2017-2018.
Education in rural Mongolia suffered after the collapse of the socialist educational system, but thanks to government initiatives and NGO projects, more herder children are receiving a quality education.
– James Harrington
Photo: Wikipedia Commons
https://borgenproject.org/wp-content/uploads/logo.jpg
0
0
Saiesha
https://borgenproject.org/wp-content/uploads/logo.jpg
Saiesha
2022-12-21 01:30:04
2022-12-14 13:55:02
Improving Education in Rural Mongolia