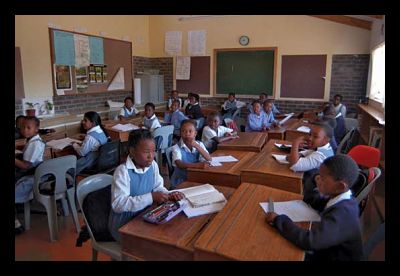 Lesotho, a former British colony landlocked within South Africa, is lacking in a variety of statistical measures ranging from poverty to education. While new standards implemented in the past 15 years have brought about improvements in many of these areas, more remains to be done.
In 2010, 56 percent of residents in Lesotho lived on less than $1.25 a day, nearly one in ten infants died before the age of five, and 41 percent of the nation's wealth was held by those in the top 10 percent of the national income bracket.
By 2013, economic circumstances had changed very little. Life expectancy was 48 years, GDP per capita was approximately $1,125, the nation had the third highest rate of HIV in the world, and 12 percent of the population remained orphaned.
While Lesotho's education statistics fare slightly better than economic ones, Lesotho lags  behind other nations. Moreover, in contrast to most developing nations, an educational gender gap exists that favors females over males in the early grades.
According to the World Bank database, in 2012, 82 percent of female children in Lesotho completed primary school, compared with only 64 percent of male children.
The gender gap appears to close in secondary school. In 2011, 75 percent of both males and females progressed to secondary education.
The gap seemingly widens again once the population reaches the labor force, this time in favor of the male population. According to the World Bank, the male unemployment rate in Lesotho stood at 3.6 percent in 2013, compared with 28.3 percent for females during the same period.
Beginning in the year 2000, the government of Lesotho has made efforts to reform the education system, offering free primary education for all students aged 6 through 13.
While implementing free and compulsory education for all students is an important first step, education officials are wary of the fact that a need for well-trained teachers, textbooks and better school infrastructure must not be overlooked.
The Education Act 2010 addresses these areas of concern, and makes special efforts to integrate orphaned, impoverished and HIV-affected children into the education system.
– Katrina Beedy
Sources: BBC, Lesotho Government, African Online News, World Bank 1, World Bank 2, World Bank 3, World Bank 4, World Bank 5, World Bank 6, World Bank 7, World Bank 8, World Bank 9,
Photo: Encyclopedia Britannica
https://borgenproject.org/wp-content/uploads/logo.jpg
0
0
Borgen Project
https://borgenproject.org/wp-content/uploads/logo.jpg
Borgen Project
2015-02-08 04:04:55
2020-07-17 21:20:18
Education in Lesotho in Need of Improvements