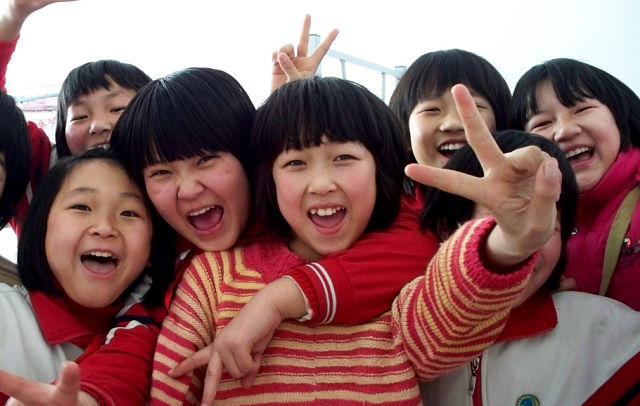 Education in Inner Mongolia, an autonomous region of China, has been growing substantially over the past few decades. It offers compulsory education in both primary and secondary schools, and education for children ages three to six has been expanded in preschools in some districts. Students from Mongolian ethnic groups attend Mongolian-language elementary and high schools and are assigned jobs by the government upon graduation. They can also choose to pursue advanced education.
In Inner Mongolia, ethnic education displays typical features which also represent the foundation of harmonious coexistence for multiple ethnicities. For instance, in 2012, each Han Chinese child received a subsidy of ¥2,700 yuan for kindergarten education expenses, while each child from a Mongolian ethnic group received a subsidy of ¥3,900. A few more public kindergartens were built in the following years in addition to the existing 17 kindergartens in Ejin Horo Banner.
Take Hohhot, the capital city of Inner Mongolia, as another example. There are 10 ethnic middle schools, 19 primary schools and 11 kindergartens in Hohhot, with a total of 44,000 students, among which 15,000 (34 percent) are ethnic minorities. 5,031 students in seven schools (two middle schools, one primary school and four kindergartens) are taught in Mongolian.
Teaching Mongolian as a supplemental language is a distinguishing feature of Inner Mongolia. In this category, there are 24 schools with 8,820 students in Hohhot. There are seven schools for the Hui nationality and two for the Man nationality. In ethnic primary and secondary schools and kindergartens, there are 3,913 teachers, among which 1,473 (38 percent) are of a minority ethnicity. Among those teachers, 110 of 456 language teachers are teaching Mongolian in the schools.
While great achievements have been accomplished, there are some deficits of ethnic education in Inner Mongolia, mainly an imbalance of students in the different grades. Students are relatively crowded in some schools (especially senior high schools) in major cities such as Hohhot. This overcrowding may result in students skipping preschool education and going directly to primary school. Meanwhile, due to a lack of space in junior middle schools, current primary school graduates may lose out on the opportunity for further education. Senior high schools are at risk of a student shortage due to the smaller amount of junior school graduates.
Secondly, the existing classrooms, facilities and teachers are far behind the current requirements which are urgently needed in order to expand. While Mongolian kindergartens in some districts are likely to increase the number of students enrolled in Mongolian classes, problems such as insufficient facilities, a shortage of teachers and the inconvenience of transportation due to suburban locations call for immediate attention.
On June 17, 2009, at a symposium on the present status of ethnic education, 27 participants from 12 different institutes proposed an agreement to end the merging of fundamental ethnic schools and instead expand and enlarge the scale of Hohhot ethnic schools as quickly as possible. In the following years, the layout of schools among different urban regions has been adjusted to meet the needs of both local and migrant students.
To further improve the state of education in Inner Mongolia, local governments should strive for support from the central government and promote the development of ethnic education. The number of schools teaching Mongolian should be expanded. Active and strong measures must be adopted to strengthen trilingual teaching (Chinese, Mongolian and English). In addition, internal management of each school should be even stricter, for the purpose of expanding feature-based construction of schools and propagating multi-ethnic cultures.
The protection and development of culture and education for ethnic minorities are of paramount importance to build the foundations for sustainable, balanced and healthy development, not only for ethnic regions, but also the entire country.
– Xin Gao
Photo: Flickr
                                                       
https://borgenproject.org/wp-content/uploads/logo.jpg
0
0
Borgen Project
https://borgenproject.org/wp-content/uploads/logo.jpg
Borgen Project
2017-11-15 07:30:15
2019-12-23 08:09:45
Education in Inner Mongolia, China