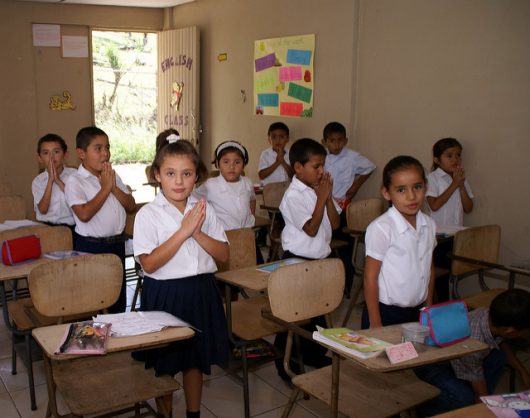 Education in Costa Rica is an important part of the region. Since the late 1800s, the government has made education mandatory and free. The government is now attempting to improve girls' education in Costa Rica through various ways like the Women's Empowerment Coalition and offering free schooling.
Women Empowerment
The Women's Empowerment Coalition is an organization that is combating gender inequality. Its goal is to work with organizations for women's rights since "of its 4.85 million population, 65 percent of girls in Costa Rica do not finish high school." This coalition focuses on helping empower women to obtain their education.
Women are slowly attaining their education, but when it comes to the economy, women aren't really present in making those decisions.
María Isabel Chamorro, the Minister of Women's Affairs, stated that "women here are reaching higher levels of education, but we have yet to advance in transferring that to women achieving high-level, decision-making positions in the economy." According to the World Bank, Costa Rica spent about 7 percent of its GDP on education in 2016.
Students Speak Out
In September of 2017, students of the University of Costa Rica and the National University took to the streets to demonstrate their unhappiness with the amount of spending on education. They protested for a higher percentage on education spending for the 2018 national budget.
TeleSur TV reported that students also "urged Legislative Assembly members to approve a law that would allocate 1.5 percent of the country's GDP for higher education in the 2018 national budget, instead of the 1.37 percent proposed by the incumbent government." In addition, STEM education lacks women — the gender makes up only 29 percent of the science and engineering workforce.
It's especially important for girls' education in Costa Rica to have a foundation where they are able to follow their desired career path, especially if it's a STEM-related career.
Life Success Paired With Legislation
Sandra Cauffman came from a poor family from Costa Rica. At an early age, she vocalized that she wanted to go to the moon after she had seen the Apollo 11 landing in 1969. Today, she serves as the Deputy Director of the Earth Science Division in the Science Mission Directorate at NASA. Her mother and an elementary school teacher were the encouragement she needed in her early years for her to follow her dreams.
Girls' education in Costa Rica is becoming even more important because the government is also pushing to help girls utilize education to for success in life. As a step in this direction, the country raised the marriage age to 18 without parental consent in January 2017 to protect young individuals from marrying too young.
According to Their World, the law was put in place to hopefully "prevent teen pregnancy and girls dropping out of school – but enforcement could be a challenge among indigenous communities where child marriage is prevalent." Under this law, the individual could face a maximum three-year imprisonment for having sex with a minor under the age of 15 if the age difference is more than five years.
Girls' Education in Costa Rica
In conclusion, Costa Rica is attempting to help girls get an education through free schooling and protection from societal pressures such as child marriage. Students from Costa Rica are also fighting to have more money invested in their education so they're able to continue pursuing their passions.
Organizations like The Women's Empowerment Coalition help women acquire their education by actively working with women seeking an education, and hopefully their actions will be repeated by other groups across the globe.
– Valeria Flores
Photo: Flickr
https://borgenproject.org/wp-content/uploads/logo.jpg
0
0
Borgen Project
https://borgenproject.org/wp-content/uploads/logo.jpg
Borgen Project
2018-06-06 01:30:28
2019-10-13 17:51:30
Rising Awareness and Progress: Girls' Education in Costa Rica