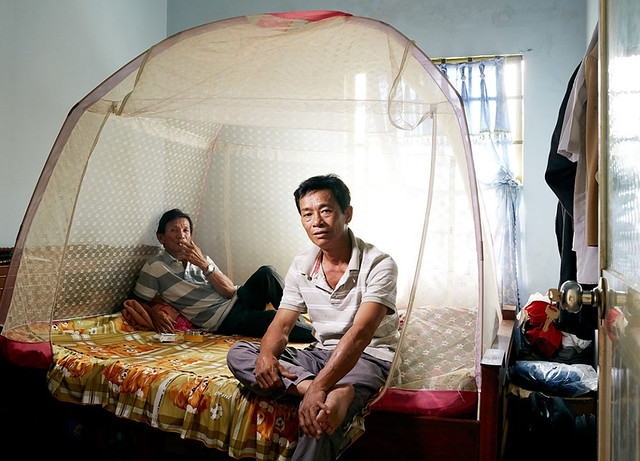 Vietnam plans to eliminate all poor households and near-poor households by the end of 2020 through implementing vocational training, accessible quality education and affordable health care services. Poverty in Vietnam has been on a steady decline since 2010. In 2016, HCM City officials saw this decline in poverty as an opportunity to implement more poverty reduction efforts by taking multidimensional measures that tackle the main sources of poverty. Sustainable Poverty Reduction was created to eradicate all poor and near-poor households by 2020.
As of January, there were 103,000 poor and near-poor households in HCM City, less than five percent of all households. Since the project began, more than 60,620 poor households. Furthermore, 58,700 near-poor households in HCM City have risen above the poverty line.
Vocational Education and Training
One aspect of the Sustainable Poverty Reduction in Vietnam is vocational education and training (VET). This project is also known as "Renewal and Development of Vocational Training System by 2020." It involves training rural workers and providing them information about employment trends and career advice. By 2020, this project predicts to increase the rate of skilled rural workers to 50 percent. Additionally, the plan aims to provide VET services to at least 90 percent of Vietnam's working population and double rural incomes.
Vocational training has helped millions of people garner technical skills to utilize in the workforce. For instance, in 2017, more than 2 million people were enrolled in VET schools. To adapt to a rapidly growing economy, Vietnam's workforce must transition from agriculture to service-oriented jobs. Similarly, VET services provide resources for rural workers to transition into more skillful and lucrative careers.
Employment in the agricultural sector has been dropping since 1997. About one million workers each year from 2011 to 2014 have transitioned to industry and service sectors.
Education
Along with VET services, Sustainable Poverty Reduction in Vietnam also includes other forms of education. City officials are working to further improve the quality and accessibility of education within poor communities. Education is vital to reducing poverty as most jobs in Vietnam require certain degrees and qualifications. Those with degrees in higher education are more likely to get hired. In 2017, among workers with professional and technical qualifications, 44.7 percent had university degrees and above, 15.8 percent had college degrees, 24 percent had intermediate degrees, and 15.6 percent had elementary certificates.
Education funding is Vietnam's largest expenditure. It makes up 20 percent of the state budget. In 2012, Vietnam ranked 17th out of 65 countries in academic performance, ahead of countries such as the U.S. and France. Throughout 2015 and 2016, school enrollment was very high. Student enrollment numbers for early elementary students were eight million, five million lower-secondary students, and two million upper-secondary students. This is according to the General Statistics Office of Vietnam. Furthermore, in those same years, the upper-secondary school graduation rate was at 95 percent.
Health Care and Accommodation
This project also incorporates health care services and accommodation. More than 87 percent of the population has health care coverage. Furthermore, estimates indicate an increase to 90 percent by 2020. Health care is one of Vietnam's weaker programs. However, it is gradually improving due to the increase in health care funding.
The government of Vietnam is dedicated to further expanding universal health care and ensuring poor and near-poor households have access to high-quality treatment and medicine. Vietnam's Health Insurance Fund covers all hospital fees for poor ethnic minorities living in impoverished communities.
Future of the Vietnamese Economy
The poverty reduction in Vietnam is also attracting other nations to open up their markets to Vietnam. Vietnam is earning its place in the world stage as it begins to globalize its economy and develop trade relations. These relations are with major global players such as the country of China. The globalization of Vietnam's economy may further expand job opportunities and continue to improve the standard of living. In 2017, there was a 6.7 percent increase in overseas employment. As a result, job opportunities are increasing in international labor markets.
Vietnam's innovative approach proves a success story. In 1990, Vietnam was one of the poorest countries, facing the remnants of war and famine. In the following years, the country saw rapid economic growth and government officials utilized their resources to further strengthen the economy and lift Vietnam from decades of hardship and poverty. As 2020 approaches, poverty reduction in Vietnam continues as the country takes great measures and strides toward becoming a developed nation.
– Louise Macaraniag
Photo: Flickr
https://borgenproject.org/wp-content/uploads/logo.jpg
0
0
Kim Thelwell
https://borgenproject.org/wp-content/uploads/logo.jpg
Kim Thelwell
2019-07-27 12:30:57
2019-12-16 14:55:09
Poverty Reduction in Vietnam: A Top Priority