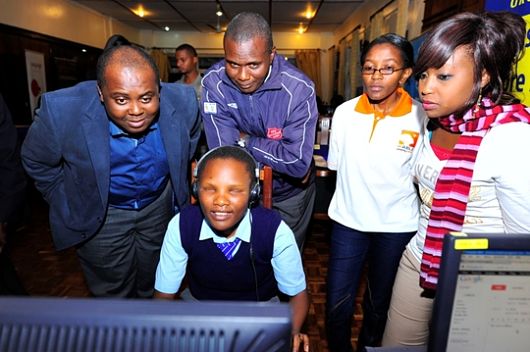 In partnership, AccessKenya, the Rockefeller Foundation and Atlanta-based nonprofit inABLE have launched a "Computer Labs for the Blind" initiative. Thus far, nearly 1,700 Kenyan students are benefiting from the program, which is intended to teach visually impaired learners basic information and communication technology (ICT) aptitude, allowing them to access educational content online and develop employable skills.
True to its name, Computer Labs for the Blind provides assistive technology computer labs and ICT education. The initiative trains visually impaired students and their instructors to use multiple computer and computational device types, including iPads. It also facilitates peer-to-peer training camps that allow advanced students to teach computer skills to the visually impaired.
In order to understand the importance of the Computer Labs for the Blind program, it is necessary to examine the hindrances non-sighted students otherwise experience. Blind and visually impaired students in Kenya face a variety of challenges to their education, including logistical issues, lack of facilities and insufficient teaching resources.
Not the least of these obstacles is the exorbitant cost of materials. In Kenya, braille textbooks can cost nearly nine times as much as ordinary textbooks, a price that most Kenyans are unable to afford. Consequently, four or more visually impaired students are compelled to share each book, limiting individual access and making it more difficult for students to acquire knowledge.
Other materials critical to blind students' education, such as braille notepaper, are also far more expensive than standard supplies. For this reason, visually impaired and blind students find themselves unable to take notes in class the way their sighted peers do. However, they are still required to sit for the same exams as sighted students, regardless of their disadvantage in preparing for tests.
Additionally, the courses of study open to visually impaired students are limited. For example, at the high school level, students who are not sighted are unable to pursue chemistry and physics. The Kenyan education system does not equip teachers to educate visually impaired students in these subjects because it does not see them as feasible participants.
Even those students who are able to acquire braille skills and graduate high school find their employment prospects severely limited. Few industries accommodate braille skills and many employers are unfamiliar with braille. Continuing education is also rarely an option for visually impaired students in developing countries like Kenya.
Faced with this lack of economic options, many visually impaired and blind Kenyans must turn to begging or prostitution in order to survive. For this reason, access to technology and the development of ICT skills offer blind and visually impaired students a chance to improve their quality of life and offer a degree of financial independence and academic development that would have been previously out of reach.
The Computer Labs for the Blind initiative will help open the futures of blind and visually impaired Kenyan students. However, inABLE founder Irene Mbari-Kirika has hopes for a wider impact.
"inABLE envisions a day when blind and visually impaired students – all over Africa and beyond – have convenient access to life-changing computer-based educational tools," Mbari-Kirika stated just before beginning inABLE's first Computer Labs for the Blind project in a Kenyan school. With at least four more Kenyan schools lined up to benefit from the initiative, inABLE and its partner organizations are taking concrete steps toward their goal.
– Emma-Claire LaSaine
Sources: Inable Africa, IT News Africa
Photo: Global Giving
https://borgenproject.org/wp-content/uploads/logo.jpg
0
0
Borgen Project
https://borgenproject.org/wp-content/uploads/logo.jpg
Borgen Project
2015-06-23 00:54:36
2020-07-15 12:06:57
ICT Aids Education for Visually Impaired in Kenya