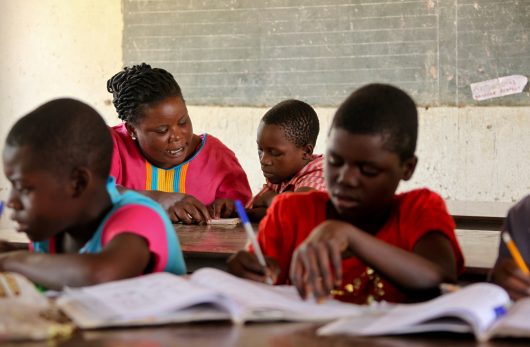 Upon gaining independence in 1980, Zimbabwe mandated free education. Today, however, fees for education in Zimbabwe are at an all time high.
On August 18, nearly 2,000 women activists protested for free education in Zimbabwe in the country's second largest city, Bulawayo. Only one day later, the protests moved to the Ministry of Education in Harare, the country's capital. These protests come at a time when citizens are struggling to find jobs and children are being forced to drop out of school because their families cannot afford it.
Organized by Women of Zimbabwe Arise (WOZA), the protests follow a string of public demonstrations that have occurred within the last two months. In Bulawayo, the protesters presented a petition to the resident minister, declaring the right to free education in Zimbabwe. A similar petition was given to Sylvia Masango, a permanent secretary in the Ministry of Primary and Secondary Education.
Only 12 percent of the Zimbabwean government's national budget is allocated to primary and secondary education, according to UNICEF. Of that 12 percent, most of the money only covers administration and teacher salaries. In August, the government reported it would not be taking new hires as it scrambles to pay the salaries of its current public workers.
According to UNICEF, over one million Zimbabwean secondary-school-aged children are not attending school. The number of school dropouts is increasing as the disparity in education grows. Children whose families rank in the top five percent of wealthiest people nationally are three times as likely to attend secondary school as children whose families rank in the bottom five percent.
Fifteen percent of children in Zimbabwe are not attending school due to the high cost of school fees, according to the Zimbabwe Vulnerability Committee. Many impoverished people in Zimbabwe live in rural areas, and Zimbabwe's rural population makes up 67 percent of the country's total.
The international community is working to fight school dropout rates. In 2010, through the Education Transition Fund (ETF), UNICEF provided 23 million textbooks to students in Zimbabwe, helping the country reach a one-to-one student-textbook ratio. The fund also helped Zimbabwe create national school grants to help students overcome financial barriers. Through the Second Chance Education Program, the fund supported alternative education opportunities for at least 50,000 children.
In 2015, the U.K. announced it would give $37 million from its Department for International Development to support Zimbabwe's education sector. Part of the funds goes toward providing quality education for children in rural areas through the School Improvement Grants program.
There are high hopes that support from the international community and pressure from its population will allow Zimbabwe to provide free education once again.
– Erica Rawles
Photo: Flickr
https://borgenproject.org/wp-content/uploads/logo.jpg
0
0
Borgen Project
https://borgenproject.org/wp-content/uploads/logo.jpg
Borgen Project
2016-10-20 01:30:02
2020-05-30 10:05:37
Female Activists Protest for Free Education in Zimbabwe