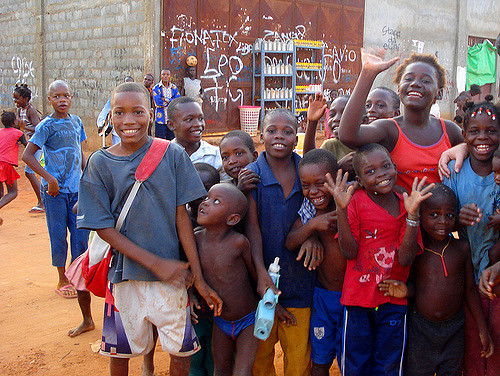 For 27 years—from the end of Portuguese colonial rule in 1975 until 2002—civil war plagued Angola. Over a quarter century of war left the nation's infrastructure in ruins, and the education system was no exception. Innumerable school buildings had been destroyed, and the population was largely destitute of the professionals and educators necessary to reboot an education system.
As such, it has been a struggle to rebuild the education system in Angola, but great strides are being made. At the end of the civil war, 72 percent of youths ages 15 to 24 were literate (83 percent of males and 63 percent of females). By 2014, that number had risen to 77 percent (with 85 percent of males and 71 percent of females being literate). The number of children attending school in 2002 was roughly two million. By 2013, attendance had tripled, with around six million students enrolled.
What accounts for this progress? And what challenges still lie ahead for Angola?
Improvements and Successes: What's Working
Achieving universal basic education is one of the United Nations' Millennium Development Goals. After the end of the civil war, Angola's Ministry of Education, in conjunction with UNESCO, developed a National Strategy on Literacy and School Recovery aimed at rebuilding the nation's destroyed education system and spreading literacy throughout Angola. The national strategy is focused on mobilizing the efforts of various local, national and international NGOs, nonprofits and volunteer organizations to act as a single united front aimed at improving education and literacy in Angola.
In recent years, UNICEF has begun an initiative in Angola to digitally collect data on education, the state of schools and regions where schools are lacking. UNICEF plans to use this data to address issues with education and literacy in Angola scientifically. By mapping where schools are performing well and where schools are not (or are not in existence), UNICEF hopes it can direct resources to the right places.
Continued Challenges to Education and Literacy in Angola
Despite the civil war having ended more than 15 years ago, Angola is still facing—and will continue to face—challenges in its education system that date back to these years of violence. Primary education in Angola is compulsory and free for four years for children between the ages of 7 and 11, but the government estimates that approximately two million children are not attending school.
In areas where classrooms were completely demolished during the war and have not yet been rebuilt, classes typically are held outside and often must be canceled due to bad weather. Where classrooms do exist, they tend to be overcrowded and undersupplied, with outdated or insufficient books and pencils as well as not enough desks and chairs.
The government continues to work to alleviate these problems. Between 2016 and 2017, Angola opened 200 new schools, and numerous humanitarian organizations, including UNICEF, Inda Cares and Develop Africa, work to collect and send donated school supplies to Angola. UNICEF's digital data collection is also of use here, as the organization hopes this data will help track both where help is most needed and the long-term impact of sending school supplies.
Furthermore, 27 years of fighting took a toll on the state of professionals in Angola.  The Angolan government employs roughly 17,000 teachers. Of these, it is estimated that 40 percent are underqualified for their positions. Today, less than 0.7 percent of Angola's population attends universities; a lack of higher education perpetuates the teacher shortage problem. Additionally, the Angolan government estimates that an additional 200,000 teachers are needed in order to enroll all children in schools with appropriately sized classrooms. Finances as well as a lack of educated professionals prevent the government from hiring these needed teachers.
Looking Forward
Since the end of its civil war, Angola has made tremendous strides in bettering its education system and moving towards achieving universal primary education for all. But challenges still exist for the sub-Saharan African nation, where a lack of infrastructure, school supplies and educated professionals continue to impact the education of Angolan students. However, the commitment to improving education and literacy in Angola—seen in both the Angolan government and international organizations like UNICEF—offers hope that progress will continue to be made and that literacy and school attendance rates will continue to improve.
– Abigail Dunn
Photo: Flickr
https://borgenproject.org/wp-content/uploads/logo.jpg
0
0
Borgen Project
https://borgenproject.org/wp-content/uploads/logo.jpg
Borgen Project
2018-07-17 07:30:32
2019-09-13 20:07:50
Improving Education and Literacy in Angola in the Aftermath of Civil War