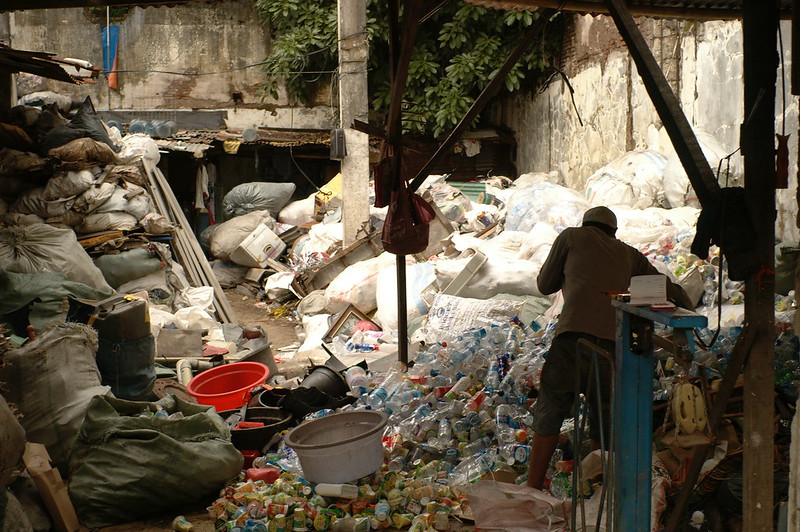 Overconsumption of plastic, especially by Americans, is a recurring problem for the environment. ReuseThisBag.com, a supplier of wholesale reusable and recycled eco-friendly promotional bags, reports that Americans use 2.5 million plastic bottles every hour. In addition, a 2010 report by the National Oceanic Atmospheric Association (NOAA) states that plastic waste makes up roughly 80% of the world's ocean pollution. With an overabundance of plastic bottles drifting both in water and on land, can recovered plastic bottles solve homelessness?
Plastic Bottles Solve Homelessness with Affordable and Durable Homes
Constructing homes using plastic bottles is not a new concept, but it's gained traction in recent years in Africa, Central and South America, and Eastern Europe. The approach is solving two problems in one. By recovering plastic waste, particularly bottles, from areas where they contribute to pollution and compromise wildlife habitats, this concept helps the environment. Additionally, this project uses plastic bottles to solve homelessness by providing long-term shelter for individuals facing housing insecurity.
Nigeria provides an example of both benefits of this approach. The eco-based website Treehugger wrote, "In Nigeria, millions of plastic bottles are dumped into waterways and landfill[s] each year causing pollution, erosion, irrigation blockages, and health problems." In addition, there are roughly 24.4 million homeless people in Nigeria. About 70% of people in the nation's capital, Lagos, reside in informal and unstable housing. As many as 300,000 Lagosians struggle with housing insecurity and homelessness due to the government's attempt to curb urban population growth. It's estimated that Nigeria will need 16 million new homes to eliminate its housing crisis.
The Development Association for Renewable Energies (DARE), a Nigerian nonprofit organization, is stepping in to construct eco-friendly homes created from plastic bottles. The homes not only provide environmental protection and durability, but they are also fireproof, earthquake-proof and bulletproof.
The bottle wall technique was developed by German firm Ecotec Environmental Solutions (Ecotec Soluciones Ambientales). Other countries using this approach include Algeria, Honduras, Brazil and Argentina. Ecotec Environmental Solutions trains residents to collect water bottles before filling them with sand. They then stack the bottles side-by-side, layering them to create a wall. With each layer, mud or cement mix binds the bottles to create a solid structure that is 20 times stronger than a brick-based house. Each home requires about 14,000 plastic bottles.
Enough Plastic Bottles to Solve Global Homelessness
Plastic water bottles account for 1.5 million tons of plastic waste per year, with about 80% of bottles being discarded like garbage and not recycled or upcycled. Scientists predict that if the world's citizens continue to pollute the Earth with plastic at the current rate, eventually humans will be over-consumed by plastic. This calls for immediate action to make use of the material that is not biodegradable and cannot be composted. With about 46,000 pieces of plastic floating per every square mile in the world's oceans, can plastic bottles provide permanent housing for the 1 billion people facing homelessness globally while helping lessen humanity's plastic problem?
Environmental consultant and founder of Ecotec Environmental Solutions, Andres Froese, sees a future in plastic bottle homes for people in developing nations that aren't addressing housing crises quickly enough. Froese has so far used 300,000 plastic bottles for 50 home construction projects throughout the world. If this work carries on, we may see a world where plastic bottles solve homelessness.
– Vicki Colbert
Photo: Flickr
https://borgenproject.org/wp-content/uploads/logo.jpg
0
0
Kim Thelwell
https://borgenproject.org/wp-content/uploads/logo.jpg
Kim Thelwell
2020-09-11 12:48:06
2020-09-11 12:48:06
Can Plastic Bottles Solve Global Homelessness?