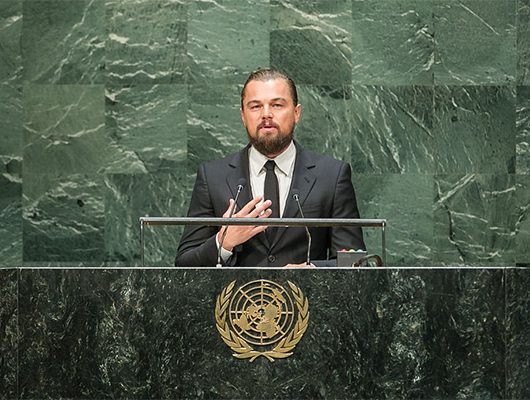 At a recent fundraising gala, the Leonardo DiCaprio Foundation (LDF) raised more than $40 million. This money was dedicated to preserving the last of Earth's wildlife, habitat, and fragile ecosystems.
DiCaprio stated during the opening ceremony, "We've decimated our forests, wildlands, polluted and overfished our rivers and oceans; all the key ecosystems that not only serve as a home to our planet's biodiversity but also make life here for us possible".
The event itself, an annual affair, focused its current efforts on protecting key species like the tiger, rhino, shark, and mountain gorilla by working with governments to conserve the jungles, coral reef and forests they call home.
The LDF was able to raise such a large amount of money in a single evening by holding a live auction, presented by the LDF's long-term partner Julius Baer and other co-sponsors like Chopard and Armani.
The live auction sold an extensive collection of fine art, luxury items and uniquely memorable lifetime experiences. Some of the items sold were an estate home on Leonardo DiCaprio's own Belize Island that was sold for over $11 million, a private concert with Elton John sold twice for a total of $3 million, and a limited re-edition of Rodin's "The Thinker" sold for close to $2 million. This shortlist of expensive items were a few of the many auctioned off at the gala event. In addition, several key figures at the event donated simply out of the kindness of their hearts for this worthy cause.
Starting in 1998, the LDF has stated its mission of protecting the world's last wild places. The LDF implements solutions that help restore balance to threatened ecosystems, ensuring the long-term health and well being of all Earth's inhabitants. Since that time the Leonardo DiCaprio Foundation (LDF) has worked on some of the most pressing environmental issues. The LDF has made several strides with grantmaking, public campaigns and media initiatives to focus efforts on protecting the biodiversity of the world.
With accomplishments like this, it is truly satisfying to see the LDF tirelessly strive to make a difference.
– Alysha Biemolt
Sources: Look to the Stars, Leonardo DiCaprio, Calfund
Photo: Flickr
https://borgenproject.org/wp-content/uploads/logo.jpg
0
0
Borgen Project
https://borgenproject.org/wp-content/uploads/logo.jpg
Borgen Project
2015-07-30 01:30:41
2020-07-14 07:38:40
Leonardo DiCaprio Foundation Raises Over $40 Million