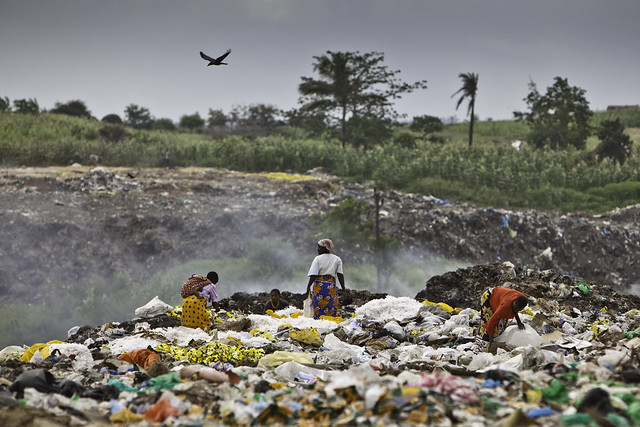 With trillions of pounds of trash produced worldwide per year, it is safe to say that trash is a growing problem. While the average American produces 4.4 pounds of trash every day, many do not realize the immensity of trash built up in communities as it almost mythically disappears from curbs weekly. Comparatively, Africans produce considerably much less waste with only 5 percent of the trash worldwide coming from the entire continent. However, in less developed parts of the world like Africa, only 10 percent of trash is regularly collected. This build-up of trash becomes problematic as it pollutes the land and water, causing disease and environmental degradation. There are many creative entrepreneurs in Africa now exploring new ways to tackle both poverty and the growing waste problem. These entrepreneurs are using creative ways to reuse the waste in their communities to create quality products to sell. From bags to shoes to fence posts, here are three businesses alleviating poverty and waste in Africa.
Rethaka Repurposes Schoolbags
Two young South African women entrepreneurs, Thato Kgatlhanye & Rea Ngwane, designed a school bag that offers a creative solution to numerous problems. Their school bags are each made out of 20 recycled plastic bags. Their idea removes plastic waste from their communities while offering a sustainable, waterproof school bag. Additionally, the bags are reflective, ensuring that kids are visible during their walks to and from school. The cherry on top of this sustainable solution is the solar charged light attached to each bag. This light charges while a child walks outside to school, providing them light to study by at home after dark. With over 10,000 bags sold already, Rethaka created local job opportunities paying fair wages, ultimately helping lift employees out of poverty.
SoleRebels
SoleRebels of Ethiopia boasts that it was the first ever fair trade certified footwear company back in 2005. Creating jobs for over 600 locals paid on average 233 percent more than industry averages, soleRebels truly prioritized creating an ethical job market in Ethiopia since its creation. Recognizing sustainability as a deeply ingrained cultural tradition rather than a contemporary trend, soleRebels made creating footwear with a low environmental impact a priority. The soles of the shoes are made out of recycled car tires. The company uses a variety of other reused and recycled materials like cotton for the rest of the shoe. This locally owned business promotes the importance of local ownership over charity. As wealth gets more evenly distributed, more people can escape poverty through job creation and ethical wages.
EcoPost
All while creating thousands of jobs for locals, EcoPost eliminated over 6 million pounds of plastic to create fence posts. Its fence post design mirrors the look of traditional wood fencing but is much more durable as it is not vulnerable to termites, mold or theft for firewood (a growing problem in Kenya).  EcoPost proved to be safer for local communities as it does not leach harsh chemicals into the water supply as treated timber does. This sustainable fencing option also reduces the number of forests cut down to create fencing from virgin wood resources. By recycling and reusing thousands of plastic bags, EcoPost helped reduce the amount of flooding in local communities caused by plastic bags clogging sewer systems. EcoPost is helping to build up communities from the inside out through the intersection of job creation and waste reduction.
As Africa continues to urbanize, the amount of municipal waste is expected to double by 2025. As growing waste negatively impacts those in poverty, it is crucial for new local businesses to take on this low impact business model. By removing waste from the waste stream and creating new jobs, sustainable businesses like the ones discussed here are effective options. With more businesses like these three businesses alleviating poverty and waste in Africa around, the path to escape from poverty becomes more accessible.
– Amy Dickens
Photo: Flickr
https://borgenproject.org/wp-content/uploads/logo.jpg
0
0
Kim Thelwell
https://borgenproject.org/wp-content/uploads/logo.jpg
Kim Thelwell
2019-04-20 12:45:41
2019-07-29 10:49:45
3 Businesses Alleviating Poverty and Waste in Africa