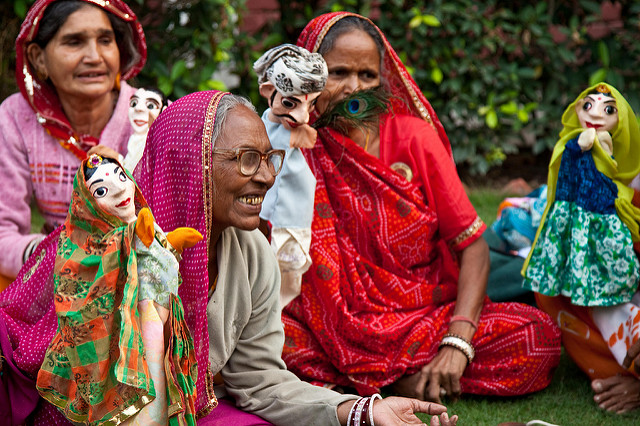 Approximately 270 million Indian people live in poverty, the highest proportion of them women and children. Despite centuries of oppression and social exclusion, women's empowerment in India is the key to success in alleviating rural poverty throughout the nation. Studies have shown that the poorer the family, the more they rely on the women of their families for survival.
Women in the Workforce
Historically, Indian women have been tasked with collecting clean drinking water, fetching wood for cooking and ensuring other day-to-day tasks to keep their households running smoothly. A cultural shift has recently allowed more women to enter the workforce.
Indian women are proving to be absolutely essential for the future success of India's growing economy. Many families depend on women's earnings to keep them afloat and women have started turning to the agricultural sector for employment. Agriculture employs over 80 percent of India's economically active women. As a result of more women turning to agriculture for work, the country's agricultural wages have risen and the gap between male and female agricultural wage rates has shrunk.
The Creation of Self-Help Groups
Women's empowerment in India has been a focus for the Indian government for a number of years. Across the country, self-help groups (SHGs) focused on empowering women have been introduced in rural communities. These groups are usually comprised of 10 to 20 local women from the targeted area. The goals of SHGs are specific to the community it serves, but generally are implemented with a focus toward training members in income-generating activities.
Success Stories of Women's empowerment in India
In 1998, a small village in India's north-eastern Jharkhand state was crippled with poverty. The village of Teliya was ridden with severe food insecurity and very little money. Today, Teliya is a thriving village producing year-round cash crops and selling other products to national markets. This transformation began with an SHG.
Teliya's SHG was started by PRADAN (Professional Assistance for Development Action), an India-based non-governmental organization. Funded by a New York-based social justice program, the Ford Foundation, PRADAN has focused on empowering India's poor and has worked collaboratively with impoverished villages for the past 30 years.
The SHG implemented in Teliya encouraged women to save what money they could to start a community of resource sharing and investment making. Women in the area started contributing what little money they had over the course of a few months. After gaining new confidence, women in Teliya quickly became representatives for their community, unafraid to speak out for the rights of themselves and their families. Women's empowerment in India has thus proven to be a success.
Teliya's success story is similar to other SHGs. Most SHGs start out with a small number of women pooling their money to create savings for their community and to provide group loans to their other community members. PRADAN works as an outside supporter, giving the community or village the necessary tools to work from the ground up. The organization is currently working with villages in eight different states across India.
With the success of each SHG and organizations devoted to women's empowerment in India, the number of people living in poverty steadily decreases. Continued progress toward gender equality will only serve to further improve the nation's economic and social states.
– Sonja Flancher
Photo: Flickr
https://borgenproject.org/wp-content/uploads/The_Borgen_Project_Logo_small.jpg
0
0
Borgen Project
https://borgenproject.org/wp-content/uploads/The_Borgen_Project_Logo_small.jpg
Borgen Project
2018-01-28 11:15:37
2019-12-18 06:02:06
Women's Empowerment in India Continues to Improve