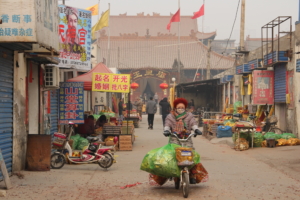 As China's population growth rate continues to stabilize after a 2.7% peak in 1966, low birth and death rates indicate increased access to education, healthcare and employment opportunities. Stabilized population growth initiates a transition toward cardiovascular diseases like coronary heart disease (CHD). Cardiovascular disease is the leading cause of death worldwide; coronary heart disease in China remains the country's second leading cause of cardiovascular death.
Risk Factors in China
CHD often leads to cardiac arrest and occurs as a result of cholesterol buildup in the coronary arteries. Out of the 290 million patients who suffer from cardiovascular disease in China, CHD accounted for approximately 11 million cases in 2018.
Risk reduction occurs through lifestyle modifications that promote physical activity and a healthy diet. Risk factors include:
High blood pressure
Obesity
Physical inactivity
High-sodium diet
Alcohol consumption
Exposure to air pollution
Smoking
China faces greater vulnerability to CHD due to common lifestyle choices, occurring as a result of the country's economic growth and development. For instance, residents experiencing urbanization in low- and middle-income communities often utilize efficient transportation methods like trains or buses rather than physical activities such as biking, running or walking. Chinese dietary patterns also reveal the popularity of processed foods consumption. These processed foods are made with significant amounts of sodium and relatively low amounts of essential nutrients like potassium, vitamin C and calcium.
Dr. Cemal Ozemek, clinical assistant professor and cardiac rehabilitation director at the University of Illinois at Chicago, told The Borgen Project that developing countries experiencing economic growth "may have increased access to calorie- and sodium-dense foods," as well as "decreases in daily life physical activity….and transition to sedentary jobs."
In terms of tobacco use, China is the leading consumer and producer of tobacco products worldwide with nearly 300 million users. Since one-third of the global smoking population resides in China, smokers and non-smokers alike experience frequent exposure through direct and secondhand consumption. Tobacco alters blood chemistry and produces plaque buildup in the coronary arteries, further increasing the risk of CHD in China.
The Intersection of Poverty and Industrialization
Over 80% of global CHD deaths occur in low and middle-income countries. As the average Chinese life expectancy continues to rise, rapid industrialization, population aging and dietary changes are leading to an overall increase in the prevalence of CHD. Like many other countries, however, the impoverished population of China is disproportionately affected by CHD due to the following risk factors:
Decreased resources allocated to cardiovascular disease prevention
Lack of access to healthcare
Increased exposure to indoor air pollution
Inability to afford nutritious food
Impoverished people affected by China's rising industrialization are at greater risk for cardiovascular diseases like CHD due to inaccessible healthy lifestyle modifications. Additional deficits like lack of environment walkability, little access to health education and high prevalence of food deserts affect CHD incidence rates among impoverished Chinese communities.
Improving Access to Healthcare in China
The Basic Public Health Services (BPHS) program was implemented in 2009 to provide free primary health services to Chinese residents. BPHS includes the establishment of medical records for Chinese residents, as well as health management and education programs. Another initiative, the Medical Financial Assistance (MFA) program, ensures healthcare access by providing financial assistance to low- and middle-income households. In 2012, the MFA assisted over 58 million individuals in primary health insurance enrollment.
Improving access to healthcare reduces the risk of CHD in China by providing residents with free recommended health consultations and check-ups. As a result, CHD patients experience increased life expectancy through early diagnosis and treatment initiatives. Financial assistance is crucial in extending healthcare access to impoverished communities because it assists low-income households with treatment costs.
According to the World Health Organization, cardiovascular diseases like CHD often reinforce cyclical poverty due to "catastrophic health spending" and "high out-of-pocket expenditure." In addition to improving access to healthcare, nationwide interventions such as tobacco-free policies, taxation on high-sodium foods and health education systems help reduce the risk of coronary heart disease in China.
– Madeline Zuzevich
Photo: Flickr
https://borgenproject.org/wp-content/uploads/logo.jpg
0
0
Kim Thelwell
https://borgenproject.org/wp-content/uploads/logo.jpg
Kim Thelwell
2020-08-19 12:37:57
2020-08-19 12:37:57
The Rising Risk of Coronary Heart Disease in China