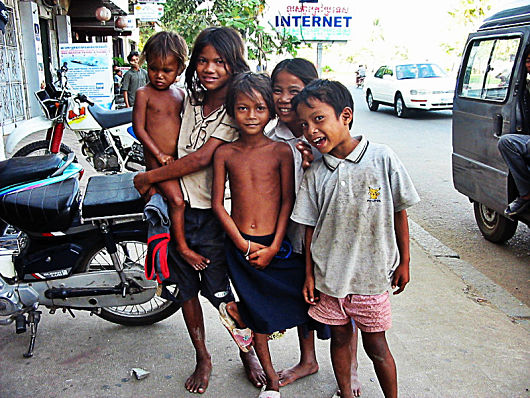 In Cambodia, a country whose economic index consistently ranks lower than the regional Asia-Pacific average, many strides have been made in recent years in order to alleviate poverty levels, strides that have moved the country into the lower-middle class. Attempts to meet the Cambodian Millennium Development Goals, or CMDG's, have also prompted successful efforts aimed at poverty alleviation, resulting in a decrease in poverty levels from 50% in 2007 to below 20% in 2012, according to the Cambodia Socio-Economic Survey.
Despite these broad strokes of progress in recent years, a third of the Cambodian population continues to live below the national poverty line, which was set at US$0.61 (R2,470) in 2007. The United Nations Development Program (UNDP) has also revealed that close to 40% of Cambodian children suffer from hunger, while 22% of the population continues to live in severe poverty.
Cambodia has struggled to recover from the legacy left behind by the Cambodian genocide —conducted by Pol Pot and the Khmer Rouge — that killed an estimated 3 million Cambodians between 1975 and 1979. One of the legacies of Pol Pot's reign of terror, for instance, can be observed with regards to the structure of Cambodian demographics. Due to the Khmer Rouge's systematic targeting of senior citizens, who were considered unfit to work as farmers in the Cambodian countryside, and the significant baby-booms that occurred at the conclusion of Pol Pot's reign in the 1980s and 1990s, youths now make up a disproportionate percent of the Cambodian population. Out of a total population of 14.0 million, around 5.1 million (49.5%) are children under the age of 18.
Of this 49.5%, studies have also found that about 18% of children age 5 to 17 are engaged in economic activities, with the average age at which a child starts working set at 10.4 years old. These children are deemed street children, for as defined by the United Nations, "any boy or girl for whom the street in the widest sense of the word has become his or her habitual abode and/or source of livelihood, and who is inadequately protected, supervised or directed by responsible adults."
A study conducted by the Cambodian Street Children Network (CSCN) discovered that these children take to the street for a variety of reasons. Traditional norms in Cambodian society, for instance, foster a mentality in which all members of the household are expected to contribute to the family's livelihood. The fact that poverty is widespread in Cambodian society and that only 7% of occupations can earn more than US$3 a day, while 38% of occupations yield less than US$1, contributes to a scenario in which income generated from begging comes to be regarded as a "career;" especially as it can yield up to $15 a day in tourist-dense regions such as Siem Reap, home to the Angkor Wat mega-complex. Add to this the fact that many of these street children come from outer provinces in order to escape or alleviate poverty at home, have lost at least one parent or are orphaned by diseases such as AIDS — it is no wonder that the street is regarded as an opportune place to reap a profit.
In addition to these contributing factors, Cambodia also has a weak law enforcement set in place to protect street children. For instance, despite a Labor Code which establishes the minimum age for employment at 15 years, CSCN has noted that there is a pervasive and blatant disregard for this law, and others. According to the latest CSCN study, conducted in 2011, children under the age of 18 engage in a variety of street activities including, but not limited to, begging. The study found that, among various activities, 19% engaged in begging, 17% in scavenging, 7% in construction work, 5% in selling petty goods, 5% in stealing and 3% in picking insects.
The phenomenon of Cambodia's street children is inextricably connected to Cambodia's levels of poverty and its current ineffectiveness in dealing with a significantly youthful population. In light of this, it is thus important to reflect that Cambodia has been making strides to alleviate levels of poverty within the country since the 1990s. Many organizations, such as the CSCN, the Anjali House, an education center created for former street children in Siem Reap, and the ChildSafe hotlines, managed by English-speaking Khmer social workers, have also been set up in recent years in order to directly address the issue of Cambodia's many children who take to the streets to survive.
However, in order to most effectively rescue Cambodia's street children, more drastic steps need to be taken to alleviate poverty and to strengthen a corrupt and failed justice system — factors which ultimately foster and enable a Cambodian street child's existence.
– Ana Powell
Sources: Asian Development Bank, Cambodian Street Children Network Canodia, The Heritage Foundation World Bank
Photo: Campus Gup Shup
https://borgenproject.org/wp-content/uploads/logo.jpg
0
0
Borgen Project
https://borgenproject.org/wp-content/uploads/logo.jpg
Borgen Project
2015-07-08 06:58:34
2020-07-11 06:27:01
Cambodian Street Children