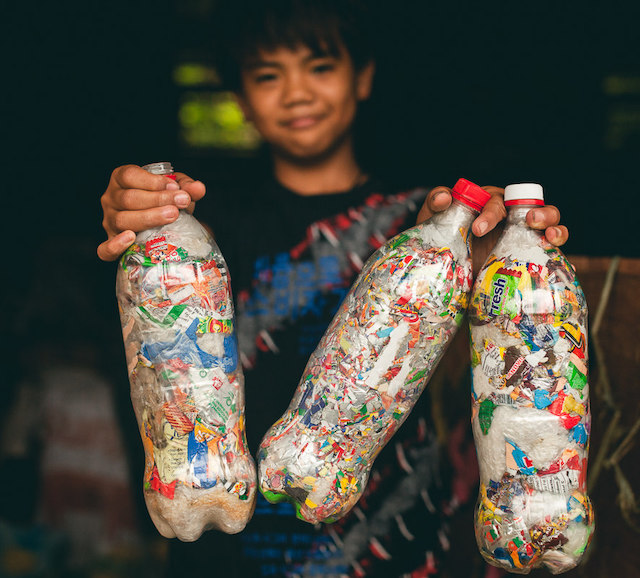 As the population grows, environmentally-friendly building materials are becoming more and more necessary. Ecobricks are just that. Ecobricks are reusable building bricks that are made by packing clean, non-recyclables (including single-use plastics and styrofoam, which can be toxic to the environment) into a plastic bottle. The bottles are then used to build things such as furniture, walls and buildings. Ecobricks are a mechanism of turning waste into infrastructure.
Ideally, a long-term solution to protect the environment would require a massive decrease in global production and the use of single-use plastic. Ecobricks do not offer a solution to this problem; however, they are an efficient short-term solution for plastics that already exist or are currently in production. In addition to upcycling plastic, the process of making Ecobricks is far better for the environment than the brick and cinder block. This makes putting industries in developing countries a cheaper option for building material.
Ecobricks In Latin America
Communities around the world are turning to Ecobricks as an efficient and responsible option for building infrastructure affordably. Hug it Forward is an organization working in Latin America that focuses its attention on access to education and how modern consumer culture generates billions of tons of inorganic waste on a yearly basis.
The organization uses Ecobricks as a solution to both by constructing bottle classrooms with the materials. These classrooms provide safe and comfortable learning environments at a lower price than if they were to be strictly brick and mortar structures, and it is more environmentally-friendly. Hug it Forward believes that working with communities to implement these classrooms is an investment in the community's resilience and self-empowerment.
Ecobricks in Africa
Ecobricks are building infrastructure in Africa. Greyton, a township in South Africa, is the country's first transition initiative in an effort to address the issues many townships face as a result of apartheid and social inequalities. These issues include a lack of affordable housing and effective waste management systems. The goal of this transition initiative is to turn Greyton into an eco-village through projects like creating community gardens and banning plastic bags.
Ecobricks are a huge part of Greyton's efforts and are being used to build schools, furniture and other necessities. At the same time, they reduce the number of non-recyclables that would make their way to nearby landfills. The township has even started a Trash to Treasure Festival, which is a music festival that increases environmental awareness. At this festival, people make, exchange and even submit Ecobricks to win prizes. After each festival, the Ecobricks are added to Greyton's infrastructure projects, such as adding an Ecobrick classroom to the town.
Eco-Future
Ecobricks are building resources that are affordable and better for the environment. They provide attainable infrastructure for the communities that need it most. These bricks are an effective short-term solution to the abundant non-recyclables littering the planet. They are an avenue of development for communities around the world. Ecobricks are a sustainable solution that provides resources by turning waste into infrastructure.
– Treya Parikh
Photo: Wikimedia Commons
https://borgenproject.org/wp-content/uploads/logo.jpg
0
0
Lynsey Alexander
https://borgenproject.org/wp-content/uploads/logo.jpg
Lynsey Alexander
2020-05-04 07:30:30
2020-04-29 20:43:25
Ecobricks: Turning Waste Into Infrastructure