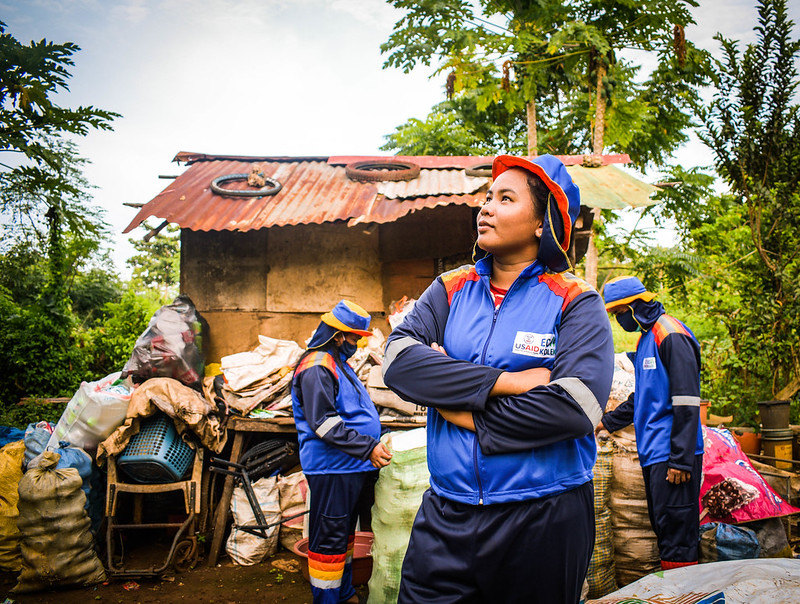 Informal waste collectors in the city of Puerto Princesa in the Philippines, in collaboration with the Eco-Kolek initiative by Project Zacchaeus (PZC), are developing a safer, more organized method of waste collection and disposal for their community. The Eco-Kolek project allows waste collectors to voice themselves and become more involved in their local communities.
Plastic and Poverty in the Philippines
Single-use plastic products are low-cost and easy to produce; the high production rate of single-use plastics in the Philippines has led to a large percentage of plastic pollution coming from the country. The Philippines produces 2.7 million tons of plastic waste annually and roughly 20% of it pollutes the ocean. As a nation of more than 7,500 islands, the coastal areas of the country are especially susceptible to the negative impacts of ocean plastic pollution.
Recent data shows that about 23.7% of Filipinos lived under the poverty threshold in the first quarter of 2021 while about 10% lived in extreme poverty, unable to meet their basic food needs. Because single-use plastics are an inexpensive way to purchase everyday necessities, like soap and toothpaste, impoverished communities produce and purchase these plastics in abundance.
Project Zacchaeus and Eco-Kolek
Project Zacchaeus is a social enterprise in the Philippines that develops specialized products and services and trains local citizens to become "servant leaders" in their communities. The organization focuses on communities in need and tailors strategies that aim to alleviate poverty in each area.
Eco-Kolek is an initiative of Project Zacchaeus that educates and provides relevant resources to waste collectors. The project's goal is to bring a sense of safety and organization to the practice of waste collection and to elevate waste collectors in the Philippines to "Eco-Warriors" and community leaders. The program takes place in Puerto Princesa on the island of Palawan in the Philippines to "help bridge the gaps of waste management."
How Eco-Kolek Helps Locals Improve Waste Collection
Women make up a large number of informal waste collectors around the world. In the Philippines, women commonly turn to waste collection to earn extra income for their families. In Puerto Princesa, local women hold many leadership roles in waste management.
A waste collector gathers improperly disposed waste and sells it to collectors for a profit. Through the help of Eco-Kolek, the Eco-Warriors can earn an income by learning other relevant skills, such as bookkeeping. With the help of the Eco-Kolek program, the waste collection has become more than just a job — it has become a way to practice and improve leadership skills and become active voices in the community. The Eco-Warriors have become integral to curbing plastic pollution in Puerto Princesa.
In March 2022, USAID's Clean Cities, Blue Ocean program provided the Eco-Warriors with vehicles to make waste collection more efficient. The agency donated "five bicycles, two motorcycles with sidecars and one four-wheeled multi-cab" to the Eco-Kolek program. These vehicles will help the waste collectors reach about "3,000 households in Puerto Princesa." The Eco-Warriors who will drive the vehicles will also receive free training and courses on driving and vehicle maintenance.
Eco-Kolek aims to reduce ocean plastic pollution by helping waste collectors in Puerto Princesa maintain a more efficient and sustainable method of waste collection. The program professionalizes the job of waste collecting by making it safer and more organized. Eco-Warriors receive education on waste disposal laws and how to most safely dispose of solid waste. Eco-Kolek provides the resources for local waste collectors to unite and more effectively help themselves and their community.
– Melissa Hood
Photo: Flickr
https://borgenproject.org/wp-content/uploads/logo.jpg
0
0
Saiesha
https://borgenproject.org/wp-content/uploads/logo.jpg
Saiesha
2022-04-22 01:30:33
2022-04-19 08:44:43
Eco-Kolek Aids Plastic Waste Collectors in the Philippines