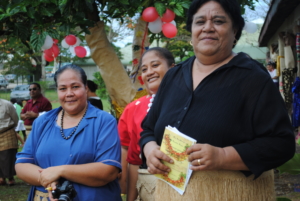 Domestic violence in Tonga, specifically against women, has become the leading type of law infringement. The most prevalent instance occurs in the home, which is especially alarming during a pandemic forcing everyone inside. However, Tonga is taking measures to fight this issue. One way is through the Women and Children Crisis Center (WCCC).
Domestic Violence in Tonga
The amount of reported cases of domestic violence in Tonga has risen over the past five years. Between January and June of 2020, there were about 537 domestic violence reports and 117 issued police safety orders. Out of those, only 99 assaulters faced prosecution.
Tongan women report experiencing physical coercion and control, sexual assault, emotional abuse and physical assault. Police officials state that the chief problem is related to a cultural belief. Tongan men believe they are in a position of power at home and can act however they please because of this entitlement. As a result, women are often scared to report their abuse cases. This is particularly true when husbands, brothers or sons are the perpetrators, as is typical.
Pacific Women reports that three out of four women in Tonga have experienced physical and sexual violence. Relationships can involve abuse as early as day one and continue on for decades, which women often endure. Furthermore, about 85% of women who have suffered from domestic violence are likely to return to the same environments as their attacks. To combat this, the WCCC in Tonga offers an escape for the abused to ensure women are given the protection they need from abusers.
The Women and Children Crisis Center in Tonga
The WCCC was established in 2009 by Director Ofa Guttenbeil-Likiliki with a group of women and male supporters. The aim was to help those who have suffered from violence. In turn, they gave free counseling and support to victims of domestic violence in Tonga. Further, the WCCC provides 24 hours of free housing to both women and children in the Mo'ui Fiefia Safe House.
When a woman reports her case to WCCC, the volunteers at the organization help guide the victim through the legal process. They explain the amount of time it will take for the victim's case to reach court and provide information about how and when the police will contact the victim for testimonies. They also educate the victim on the importance of having a medical record when reporting cases like rape. If the woman is willing, the WCCC offers her a platform to voice her experience. The organization focuses on sharing the stories of victims who have used WCCC's services and how they have benefitted from those services.
Male Advocacy Training
Violence prevention was another main reason for WCCC's founding. In 2017, the WCCC launched male advocacy training to end violence against women and children and encourage gender equality. The purpose of the training is to educate men on three key ideas: men have control over how they behave in a sexual manner, all sexual activity can only be performed after there is consent on both sides and men are equally responsible for the transmission of sexually active diseases.
The men receive many lessons from knowledgeable speakers to help end the domestic violence in Tonga. Director Guttenbeil-Likiliki said, "In a situation where a woman does not want to have sex but you continue to persist and persuade her to have sex, this is a high-risk situation, as it is considered to be sexual assault or rape." Melkie Anton, a lead trainer, explains proper relationship roles to male participants. Anton states, "Women are often used as sexual objects," and when a woman is in a relationship, she must follow all of her partner's orders. As a result, the man ends up controlling the relationship and may treat the woman's feelings with disregard. Another learning directive is toxic masculinity. WCCC members detail how issues, such as proving masculinity and competing with other men encourage domestic violence.
Looking to the Future
WCCC members are working toward expanding their organization's influence throughout Tonga,  particularly through collaboration. The WCCC has partnered with other organizations, such as the Fiji Women's Crisis Centre and the Vanuatu Women's Crisis Centre. The organization even reaches out to Tongan government agencies, including the Ministry of Education. The work of the WCCC, from aiding victims to education to advocacy, is a step in the right direction. With continued efforts, there can be an end to domestic violence in Tonga.
– Sudiksha Kochi
Photo: Flickr
https://borgenproject.org/wp-content/uploads/logo.jpg
0
0
Yuki
https://borgenproject.org/wp-content/uploads/logo.jpg
Yuki
2020-12-23 11:22:37
2020-12-28 09:33:07
Domestic Violence in Tonga: The WCCC's Efforts