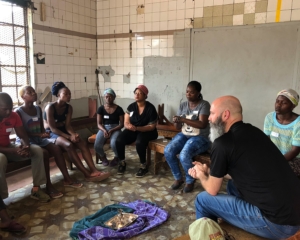 Recently, doctors have been sounding the alarm bells on the ongoing global mental health crisis, going as far as to describe the worldwide support for mental health as "pitifully small." When there is support for mental health issues, the spotlight is centered largely on more developed nations, leaving mental health disorders to be untreated and thrive in developing countries where healthcare systems are generally weak and inaccessible to the general population. However, nonprofits and NGOs are now refocusing their efforts on creating better outcomes for people suffering from poor mental health in less-acclimated nations. Mental health in Africa requires attention, but luckily, some organizations are working there to make a difference.
Mental health support across the continent of Africa, in particular, is notably poor. In 2022, Lesotho, a small country surrounded by South Africa, had the most suicides per capita in the world at 72.4 per 100,000, with surrounding countries displaying similar statistics. The high suicide rate and lackluster mental health across Africa stem from issues such as the prevalence AIDS, widespread poverty, conflict and general lack of resources.
Support for People in Africa
When people living in Africa face these struggles, they seldom receive support. In 2015, Sierra Leone, a nation of 7 million, had only one mental health facility which was to support 104 patients. In Nigeria and South Africa, two of the continent's more affluent nations, only 10% and 25% of mentally ill citizens have access to a psychiatrist, respectively.
Poor mental health can have dire outcomes for those who do not receive help. While many acknowledge the correlation between mental illness and suicide, lesser emphasis has been placed on the association between subpar mental health and poverty. According to the Substance Abuse and Mental Health Services Administration, poverty can intensify the symptoms of mental disorders and increase the likelihood of the onset of illness. Moreover, mental health issues can also increase the odds that someone falls below the poverty line. Here are five organizations fighting global poverty by improving mental health in Africa.
5 Organizations Improving Mental Health in Africa
Looking Ahead
These five organizations have been beneficial to communities in Africa by improving mental health care. Through their continued work, Africans should be able to receive the support they need.
– Ryan Morton
Photo: Wikipedia Commons
https://borgenproject.org/wp-content/uploads/logo.jpg
0
0
Naida Jahic
https://borgenproject.org/wp-content/uploads/logo.jpg
Naida Jahic
2022-10-01 01:30:35
2022-09-27 08:42:26
5 Organizations Improving Mental Health in Africa