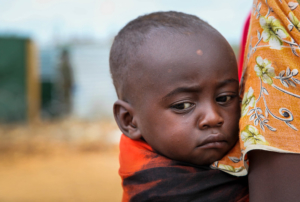 As a developing country, Uganda struggles with multiple intractable diseases that kill millions of Ugandans every year. HIV/AIDS, malaria and tuberculosis are among the top five causes of death in Uganda. But, medical research is providing innovations that give hope to relieve suffering and prevent death in Uganda. Here are three diseases in Uganda that can be tackled with treatments that seem like science fiction.
Tuberculosis and Bedaquiline
Science fiction often explores the possibilities of DNA manipulation. Now, this sci-fi premise is becoming a reality through a new tuberculosis drug called bedaquiline. Bedaquiline is a new drug that blocks energy transfer enzymes that a tuberculosis bacteria cell needs to survive. Without this essential energy, the cell dies. A June 2019 study discovered that bedaquiline has long-term treatment potential. The drug forms small reservoirs in the body, allowing it to naturally release throughout the body and continually kill tuberculosis cells over time. This is a major breakthrough for Ugandan citizens since this is the first tuberculosis treatment to come out in 50 years. 
Malaria and Genetic Mutation
Popular science fiction games outline the use of biological weapons, such as Mass Effect's fictional "genophage" which causes a female host to produce sterile offspring. Experimental genetic engineering technology is now taking on a highly deadly disease in Uganda. Scientists have developed an engineered genetic mutation that deforms mosquito reproductive organs and passes from female mosquitos to daughter eggs, meaning that the hatched females are unable to breed. In other words, the mutation makes the next generation of mosquitos sterile, reducing the population and thus reducing the risk of malaria.
Further, the mutation changes females mosquitos' mouths to resemble male counterparts'. Male mosquitos cannot bite humans, thus the mutation "de-fangs" female mosquitoes, making it impossible for them to transmit malaria. Releasing genetically modified mosquitoes has been controversial and research continues. According to Uganda's Ministry of Health, malaria is endemic in 95 percent of Uganda. If it is found that modifying mosquitoes is safe and successful, this development could be a critical contribution to treating malaria and other mosquito transmitted diseases in Uganda.
HIV/AIDS and the Immune System
Science fiction extensively narrates the use of genetic properties to repair and fix humans. Dual studies from 2007 and 2019 used similar methods to combat the insidious syndrome of HIV/AIDS that plagues Uganda. A bone marrow transplant replaces the patient's immune system with mutated systems via lymphatic pathways. It essentially replaces the patient's immune system with a new, mutated version that combats the disease.
Using this technique, a 2007 patient has been off anti-retroviral medicines for 12 years. The most recent patient, cured in 2019, has been HIV-free for more than 18 months. With difficulties in bringing patients back for consistent treatments, a possible long-term solution for HIV/AIDS is an extremely important advance for the 1.3 million Ugandans infected with HIV.
Conclusion
Famous Star Trek character Captain Jean-Luc Picard stated, "Things are only impossible until they're not." Relieving Uganda's suffering seemed impossible – the stuff of science fiction – as if they would never be free of disease. But, the above treatments provide hope for the people of Uganda. Through rigorous research and innovation, doctors are developing treatments for diseases in Uganda and other countries.
– Melanie Rasmussen
Photo: Flickr
https://borgenproject.org/wp-content/uploads/The_Borgen_Project_Logo_small.jpg
0
0
Jennifer Philipp
https://borgenproject.org/wp-content/uploads/The_Borgen_Project_Logo_small.jpg
Jennifer Philipp
2020-02-03 01:30:17
2020-02-03 14:48:01
Addressing the Top 3 Diseases in Uganda