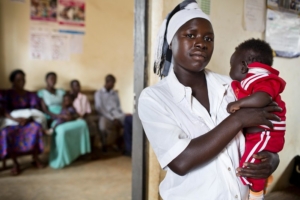 For Uganda, a country in East Africa, health is a major concern. Uganda's population of 47 million has always been heavily impacted by illness and disease, with communicable diseases accounting for over 50% of deaths in the country. Malaria, tuberculosis (TB) and HIV/AIDS are three of the top diseases impacting Uganda and are among the leading causes of death. 
Here is more information about these diseases, and what is being done about them.
Malaria
Malaria is a life-threatening disease spread through mosquitoes that feed on humans, with symptoms such as high fevers and shaking chills. As one of the top diseases impacting Uganda, it is a risk to over 90% of the Ugandan population and is a leading cause of sickness and death, especially in children. Uganda has the highest malaria incidence rate worldwide, with 478 cases per 1,000 people per year, and malaria is estimated to have caused between 70,000 and 100,000 deaths per year, exceeding even the death rate of HIV.
In Uganda's Ntungamo District, one of the districts most heavily affected by malaria, people have taken action to combat its spread. Village Health Teams (VHT) have been trained by the Ministry of Health and UNICEF to support Ugandan communities in fighting against diseases and assisting health care workers in providing health services. The teams also educate communities on malaria prevention methods, such as insecticide-treated mosquito nets, and prescribe Coartem, an anti-malarial medication that destroys the malaria parasites, to those affected by malaria. The efforts of the VHT have resulted in a remarkable decline in malaria cases — from 8,297 cases in December 2022 to 3,995 cases in March 2023. 
Tuberculosis
TB is an infectious disease that mainly affects the lungs. It is caused by a type of bacteria and is spread through the air when TB-infected people cough. TB is a leading cause of death worldwide, and Uganda is one of the countries with the highest burden of TB. Every day, around 30 people die of TB, and 240 people fall sick with TB in Uganda. Uganda is designated by the World Health Organization to be a TB and HIV high-burden country, with over 12,000 deaths to TB every year, and around half of those deaths are among those who are HIV-positive. Children under 15 account for an estimated 12% of TB cases, with young children vulnerable to developing a more severe version of TB. 
Since 2015, the Ugandan government has made significant progress in improving the coverage of TB preventive treatment that targets those living with HIV, made available at no cost for TB patients. Scaling up the coverage of preventive treatment has resulted in nearly 600,000 people living with HIV initiating this treatment from 2015 to 2019, and from 2016 to 2022, TB preventive treatment coverage for people living with HIV increased from 0.6% to 88.8%. Over the years, Uganda has successfully scaled up the provision of TB preventive treatment to those living with HIV, and the government has pledged to end TB by 2030 by continuing to accelerate the delivery of TB treatments.
HIV/AIDS
Acquired immunodeficiency syndrome (AIDS) is a condition caused by the human immunodeficiency virus (HIV). HIV attacks the human immune system, leaving it vulnerable to infection and disease. Around 1.4 million people in Uganda live with HIV, among whom women are disproportionately affected. About 17,000 people die per year due to AIDS, 22% of whom are children under the age of 15. 
The nonprofit organization mothers2mothers (m2m) contributes to the prevention of mother-to-child transmission of HIV and has virtually eliminated mother-to-child transmission of HIV among its clients. It supports mothers who live with HIV by helping pregnant women access antiretroviral treatment (ART). In 2021, m2m took in and improved the lives of over 150,000 new clients; among these clients, 100% of HIV-positive women have been given lifetime ART, and 100% of HIV-exposed infants have been treated with ART as protection from infection. m2m has also intervened to end child marriage in Uganda's Kamuli District, protecting adolescent women who are more susceptible to getting infected and increasing access to HIV care. 
Looking Forward
The measures taken to combat some of the most deadly diseases impacting Uganda have led to a decrease in mortality rates over the years. With continued efforts from organizations like m2m and local communities, Uganda will continue to make strides in minimizing the impact of malaria, TB, HIV/AIDS and other diseases. 
– Stephanie Chan
Photo: Unsplash
https://borgenproject.org/wp-content/uploads/logo.jpg
0
0
Lynsey Alexander
https://borgenproject.org/wp-content/uploads/logo.jpg
Lynsey Alexander
2023-09-11 01:30:29
2023-09-07 05:55:23
Addressing the Top Diseases Impacting Uganda