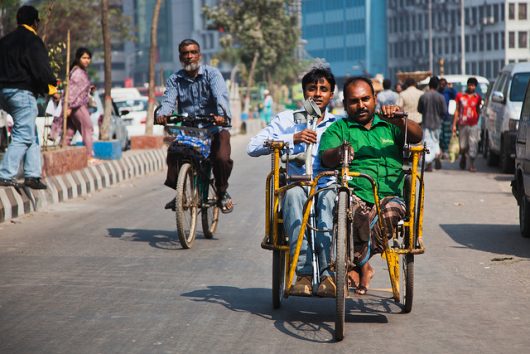 Eliminating global poverty requires both aid organizations and the global community to recognize and ensure the rights of people with disabilities. At least one billion people worldwide experience some type of disability, and many of those people account for the world's poor. Evidence suggests that people with disabilities represent a large selection of the world's poor. The World Health Survey data shows that in five out of 15 developing countries, households where at least one family had a disability, had significantly fewer assets and lower levels of income.
Poverty and Disabilities
Economic inequality is exacerbated by discrimination that has manifested as a lack of employment opportunities for disabled people, especially in developing countries. The difficult economic circumstances facing impoverished, disabled persons and the lack of opportunities for upward mobility can have life-threatening consequences.
The World Health Organization's World Report on Disability found that people with disabilities were found to be 20 percent less likely to be able to afford necessary healthcare. Poverty exacerbates the effects of all of these externalities, which makes it extremely crucial to address these issues in developing nations and begin reducing the poverty of the disabled.
It's also important to recognize the interconnectedness of all of these issues and that they stem from institutional barriers and an uneven distribution of opportunities. Poverty and inequality are inevitably linked, which means that a focus on reducing the inequality of economic opportunities will reduce poverty as well.
This poverty reduction doesn't solely apply to disabled people. The International Labor Organization conducted a study of 10 low-income developing countries and found that an estimated 3-7 percent of GDP is lost each year due to the exclusion of disabled people from the labor market.
Everyone benefits from providing employment opportunities for disabled people and uplifting them out of poverty, but it requires tearing down the negative social and political barriers that have pervaded society in regards to the disabled population. This is the only way to effectively reduce poverty. One organization has worked with developing nations across the world to ensure a disabled person's right to a life without poverty.
The Disability Rights Fund
The Disability Rights Fund (DRF) is an organization that promotes advocacy for people with disabilities by empowering those identifying as disabled to advocate for themselves. The group has expanded its efforts to several developing nations. They've worked to increase the participation of disabled people to advocate for the ratification of the Convention on the Rights of Persons. Their leaders provide grants and support systems that promote the economic well-being of disabled people in developing nations.
Albert Mollah of The Access Bangladesh Foundation spoke highly of the positive effect one of these grants had on their operations. A grant from The Disability Rights Fund allowed them to meet with several disabled persons' organizations to provide feedback to the Bangladeshi government on how to improve the livelihoods of their disabled constituents.
The Access to Bangladesh Foundation recommended that the government include persons with disabilities in all safety net programs, raise awareness among duty bearers about the contributions that those with disabilities can make in society, track data and ensure access and disability inclusion to infrastructure and information.
Grants from The Disability Rights Fund have had similar success with the OHANA group in Indonesia and the Uganda National Association of the Deaf. The DRF pools its vast resources and directs them towards groups that are credibly working to alleviate the impacts of inequality for the poor and disabled.
Disabled people are particularly susceptible to poverty because of cultural misconceptions. Concentrated efforts against the social and political barriers faced by the disabled will help to reduce poverty and spread awareness of the issue. Combating the marginalization of the disabled by these cultural misconceptions will help everyone by opening access to a plethora of highly skilled workers.
– Anand Tayal
Photo: Flickr
https://borgenproject.org/wp-content/uploads/logo.jpg
0
0
Borgen Project
https://borgenproject.org/wp-content/uploads/logo.jpg
Borgen Project
2018-07-27 06:30:26
2019-09-13 19:57:01
How to Reduce Poverty Among the Disabled Worldwide