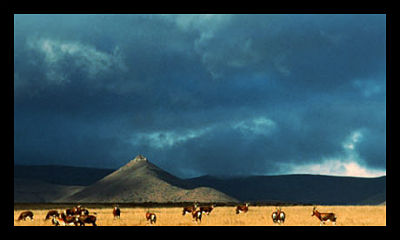 The South African government recently lifted a moratorium on fracking. Results of the decision are raising the stakes for both those for and against the controversial practice.
The Karoo is a beautiful but dry semi-desert stretching from the West coast of South Africa, across a third of the country. The land is ecologically rich in plants and wildlife, but also one of the country's most economically impoverished regions. Some of the small towns along the highways experience unemployment rates as high as 90%, with welfare grants often a main source of income.
But beneath the surface of the majestic Karoo lies a potential solution to the region's many economic problems and a source of great interest for energy companies. It is believed that there are large reserves of natural gas within the shale that could be accessed and extracted through hydraulic fracturing—better known as "fracking."
"Moderately optimistic" figures from the South African government's Department of Mineral Resources estimate oil reserves of 485 trillion cubic feet, and if just 30 trillion cubic feet were extracted, the potential gain could be about one trillion rand ($115 billion). However, it is not that simple. Fracking is a highly contested practice, and some believe it would destroy the fragile ecosystem and even livelihoods in the Karoo.
Fracking activists, or so-called "fractivists," have been protesting shale gas exploration in the region since Shell started exploring in the area in 2011, and initially the government appeared to share concern. In April 2011, a decision by the Department of Mineral Resources to place a moratorium on exploration licenses in order to allow more time for a full investigation of the risks involved was endorsed by the cabinet. But the resultant report concluded that fracking could have a "major impact of the national economy" and create "direct employment opportunities" that could number in the tens of thousands.
The results led the Energy Minister, Dipuo Peters, to state, "It would be wrong not to use the resources that God left us with." The moratorium was lifted in September 2012, and oil companies began preparations to move into the Karoo, raising the stakes of the debate even higher.
With oil companies gearing up to explore the Karoo, time for cultivating awareness is quickly running out. The government is expected to issue exploration rights near the beginning of next year. Following this, the anti-fracking lobby will have 30 days to submit a written appeal to the government.
The ruling African National Congress party seems in no mood to keep talking. Secretary-general Gwede Mantashe announced at the end of last month that moving forward with fracking was non-negotiable for a government keen to kick-start a stagnant economy. South African fractivists may have to take their appeals to the high court.
– Scarlet Shelton
Sources: AllAfrica, DMR, The Herald
Flavio: The Guardian
https://borgenproject.org/wp-content/uploads/logo.jpg
0
0
Borgen Project
https://borgenproject.org/wp-content/uploads/logo.jpg
Borgen Project
2013-08-21 09:25:09
2018-03-07 13:33:16
South Africa's Fracking Debate