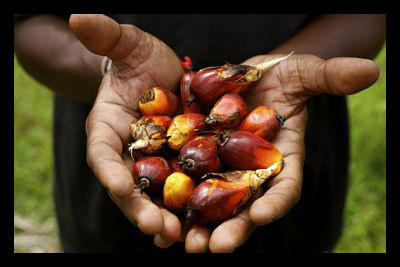 Palm oil, a key ingredient in biofuels and a product present in vast amounts of food, is at the center of a violent conflict between local farmers and agribusiness in Honduras.
The source of the conflict goes back 20 years when the World Bank instituted a land modernization program in Honduras. Farmers point to this program as the mechanism by which thousands of hectares of land were confiscated by large companies specializing in growing African palms.
President Zelaya started an investigation into the land grabs at one point, but he was deposed in a coup in 2009. The Guardian reports the coup had financial backing from the police, business, military, and political bodies of Honduras.
The most recent revelation implicates the World Bank in giving millions of dollars in loans to Dinant Corporation, the company at the center of the conflict.
The World Bank recently conducted an internal review of actions taken by the staff of Dinant Corporation.  The report concluded that the violence and forced relocations were not adequately assessed before  the International Finance Corporation (IFC) granted Dinant Corporation a massive loan. The loan given to Dinant Corporation by the IFC amounts to a grand total of $30 million.
Human Rights Watch asserts that many IFC staff members knew of the conflict between Dinant and local farmers before giving the loan.
One of the major conclusions reached by the World Bank's internal investigation, was that the culture within the IFC contributed to the decision to continue conducting business with Dinant. For example, results measured at the IFC are in purely financial terms. This has led some investigators to conclude that various staff members turned a blind eye to Dinant's violence.
The report also states that much of the IFC staff involved with the loan misinterpreted the rules set out before them with regard to these massive loans. The IFC responded with a vague, five page statement contesting the conclusions reached by the World Bank's investigation.
Most of the conflict is within the Bajo Aguán region of Honduras, where multiple killings have taken place at the hands of both private and public forces. It is believed that some of these forces operate at the behest of Dinant.
There seems to be a mix of private and public interests at work to oust local farmers from the Bajo Aguan region. The 15th battalion and private security forces have been implicated in the violence. Over the past four years, 100 people have been killed in this conflict.
Unfortunately, the conflict between small farmers and Honduran agribusiness does not seem to have an end in sight. What makes these farmers predicament truly tragic is the fact that the crimes perpetrated against them had financial backing from an international institution usually associated with helping the world's poor.
– Zack Lindberg
Sources: The Guardian, New York Times, Human Rights Watch
Photo: CGIAR
https://borgenproject.org/wp-content/uploads/logo.jpg
0
0
Borgen Project
https://borgenproject.org/wp-content/uploads/logo.jpg
Borgen Project
2014-02-10 04:00:46
2014-02-18 15:02:19
Dinant Corporation, World Bank Agribusiness Controversy