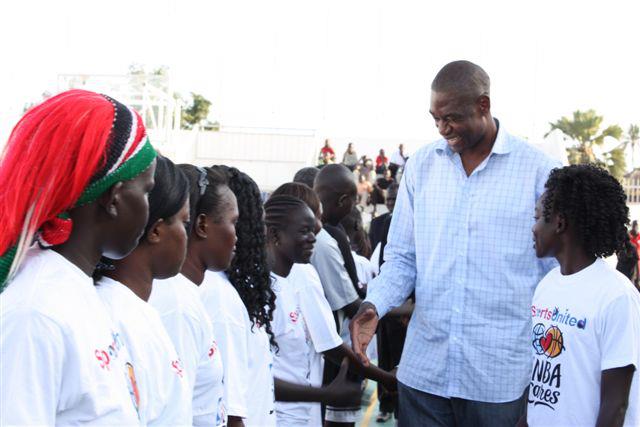 Dikembe Mutombo is most famous for his basketball career as a player in the NBA for 18 years and a four-time Defensive Player of the Year award recipient, but he is also well-known for his humanitarian work. Mutombo, born in Kinshasa, the capital city of the Democratic Republic of the Congo, has spent the last 22 years contributing much of his time to helping his home country. Dikembe Mutombo's impact has been significant due to creating the Dikembe Mutombo Foundation.
The Democratic Republic of the Congo's Struggle With Poverty
The Democratic Republic of the Congo (DRC) has faced a long history of injustice due to political corruption and economic collapse which has affected the country in a multitude of ways. Approximately 70 percent of Congolese people have little or no health care, and many hospitals and clinics lack necessary components to keep them running smoothly. Many health care facilities have shortages of personnel and equipment and frequently run out of necessary medicine and supplies.
Some of the top causes of death in the DRC include preventable or treatable conditions such as malaria, lower respiratory infections, tuberculosis and diarrheal diseases. However, in the last 12 years, child vaccinations have increased from 31 to 45 percent, and the DRC has been free of polio for over three years. Still, because 64 percent of Congolese live under the poverty line, they often have to make the choice between food and medicine.
The Dikembe Mutombo Foundation
Mutombo founded the Dikembe Mutombo Foundation (DMF) in 1997, in honor of his mother. Due to civil unrest, she was unable to get to the hospital for treatment and died that year.
This inspired Mutombo to create a foundation focused on primary health care, disease prevention, health policy and research and access to health care education. Its mission is to improve the health, education and quality of life for the people in the DRC.
DMF opened its first hospital in 2007, the Biamba Marie Mutombo Hospital, named after Dikembe Mutombo's mother. It commits to providing high-quality health care regardless of economic status. Dikembe Mutombo's impact has allowed the hospital to treat over 30,000 patients and employ almost 400 doctors and nurses.
A future project of the foundation will be the building of a Welcome House next to the hospital. It also plans to construct an elementary school with an emphasis on science and technology outside of Kinshasa.
Mutombo on the Ebola Crisis
Mutombo and his foundation have recently joined with the U.S. Center for Disease Control and Prevention (CDC) to communicate with the Congolese about the Ebola crisis. Almost a year after the initial outbreak, reports mentioned 2,284 cases of infection and almost 1,500 probable deaths, making this the 10th and worst Ebola outbreak that the DRC has faced.
The CDC began posting the public service announcements to its YouTube channel and on the agency's website on Monday in some of the native languages of the DRC, French and Swahili. In the video, Mutombo describes the early signs of Ebola, treatment, preventative measures and recommendations. Mutombo told the Associated Press, "When there's something happening around the world, it should be a concern of everyone living on this planet, and I think the epidemic of Ebola is touching all of us."
Mutombo's philanthropy in his home country of the Democratic Republic of Congo will impact generations to come. Mutombo stated it best in the Ebola PSA: "I believe as a son of Congo, I think my voice can be heard. Because everyone in the country knows my commitment to humanity and health."
– Alexia Carvajalino
Photo: Flickr
https://borgenproject.org/wp-content/uploads/logo.jpg
0
0
Kim Thelwell
https://borgenproject.org/wp-content/uploads/logo.jpg
Kim Thelwell
2019-09-03 13:01:26
2019-09-03 13:01:26
Dikembe Mutombo's Impact on the DRC