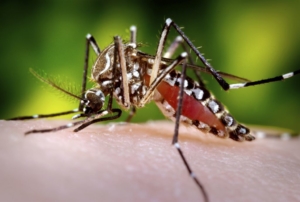 Malaysia is overwhelmed with its never before seen dengue fever outbreak. According to the Health Ministry, there have been more than 40,000 cases and 201 deaths so far. The deaths have increased from 215 in 2014 total, 92 in 2013, and 35 in 2012.
In six months, deaths increased 100 percent from last year between January and June 6, with 144 deaths compared to 72 last year. From the 21st week to the 22nd week, the numbers of cases increased by 8 percent.
Dengue fever is spread by the female Aedes mosquito, which can lay up to 400 eggs per week and needs very little water to breed. The mosquito typically bites in the morning or at dusk with initial symptoms feeling like the flu.
Those infected realize it's dengue from the exhaustion, fever and joint pains they get. In the worst-case scenario, victims develop hemorrhagic fever, which can lead to death.
There is growing concern that the virus is changing and becoming more deadly with changes in symptoms and repeat infections. The deputy director general of Health at the Ministry says, "There's always a chance virus may change." He does find it strange that the new symptoms are liver failure, meningitis and brain infection.
There is currently no cure for dengue. The most that can be done to treat it is the platelet count with a saline drip.
The disease is common in many Asian countries and costs the economy about $2 billion annually, excluding the cost of fogging and other methods used to kill the Aedes mosquito.
According to the World Health Organization (WHO), dengue cases have increased 30-fold in the last half century, and half of the world population is at risk.
Citizens are combatting the disease with leaflets and insecticide. Citizens like Kau Siew Yoon, a retired librarian, are volunteering with their local anti-dengue squad.
At the government level, workers are sent out to spray fog around the neighborhoods affected and doctors are given rapid detection kits as soon as a doctor reports a case to the Health Ministry.
Doctor Lam Sait Kit, who has been studying dengue for 40 years, doesn't think fog is very effective, and believes vaccines could prevent outbreaks. Given that WHO is aiming to decrease dengue by 25 percent and its mortality by at least half by 2020, many companies are looking to develop a vaccine.
The most progress has been made by the French pharmaceutical giant Sanofi-Pasteur, which finished its third phase of clinical trials for a vaccine it has been working on for more than 20 years.
The trials were done on thousands of children in Asia and South America, and the vaccine shows protection against all four types of fever with varying results. Those ages 9-16 showed an 80 percent reduction in hospitalization and a 93 percent reduction in the disease becoming more severe.
Malaysia is working with WHO in analyzing the vaccine data. Baptiste De Clarens, GM for Sanofi-Pasteur in Malaysia, Brunei, and Singapore, believes a vaccine isn't the only solution, with a need for vector control and public awareness.
Given the alarming numbers of this outbreak, the focus needs to be on reducing the current cases and finding solutions that prevent the disease, such as an educational campaign to fight against it.
– Paula Acevedo
https://borgenproject.org/wp-content/uploads/logo.jpg
0
0
Borgen Project
https://borgenproject.org/wp-content/uploads/logo.jpg
Borgen Project
2015-09-12 01:30:22
2020-07-02 17:45:17
Fighting the Dengue Fever Outbreak in Malaysia