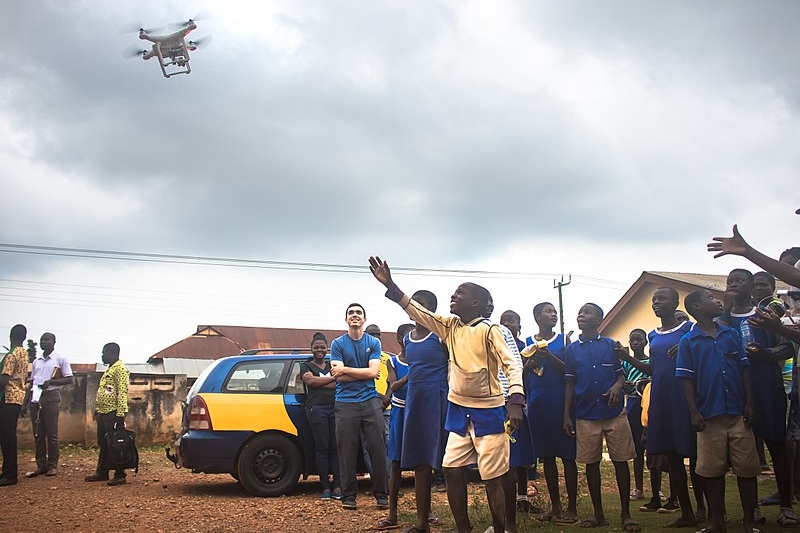 AI technology is all around and many use it without even knowing it. However, many people in developing countries cannot access this technology without help. WorldData has reported that there are 152 developing countries worldwide, with a population of 6.69 billion. The entirety of Central and South America and Africa are developing nations, along with the majority of Asia and other island states. About 9% of the global population is living in extreme poverty, earning less than $1.90 per day, and living below the higher poverty line. More than 20% earn less than $3.20 per day and more than 40% earn less than $5.50.
What is Artificial Intelligence?
Artificial intelligence (AI) is basically coding and software that help people in daily life. While people know it best for its role in science and medicine, it also has a role in the productive robots in factories, the voice recognition in smartphones, the software that detects online viruses and the drones that deliver packages and help farmers. While there is no official definition for AI, it is typically a man-made machine that does things humans cannot do in a timely manner or at all. The term "artificial intelligence" or "AI" was created in 1956 at a conference in New Hampshire, the United States, but AI machines existed before that.
How is AI Technology Helping Developing Nations?
Agriculture. AI technology supports many different aspects of agriculture, particularly in Africa. It helps farmers take care of their crops by detecting when is the best time to plant and harvest. It can also help detect when crops are sick. For example, mCrops is a form of AI that helps diagnose crop diseases in Uganda. Additionally, another AI that is helpful in agriculture is drones that spray pesticides on sick plants. However, they can also spray water and help plant new crops in the healthiest parts of the ground. An example of this is Aerobotics, which works in Malawi, Zimbabwe and Mozambique.
Education. AI technology can help developing nations, especially in rural areas, with education because it is effective for illiteracy, coursework and general school subjects, and can alleviate the short supply of teachers and supplies using tutoring technology. Sites like Dapito, Eneza Education and Tutorful help people connect around the world. For example, they teach English to non-English speakers, customizing content and lessons for a specific student. Students in developing nations are intelligent, but they lack qualified teachers and are sometimes unable to travel to school. For example, travel might not be available when there are floods and when they are sick, especially when many schools are far away.
Recognition. This method of AI includes location and supports many fields, such as health care, natural disasters, deliveries and shipments, and more, generally by the use of drones. An earthquake hit Nepal in 2015 where the United Nations Office for the Coordination of Humanitarian Affairs (UNOCHA) used AI in relief to locate damage from social media posts, mobile devices, satellites and multiple other devices. Currently, the World Wildlife Fund uses drones in Kenya to arrest wildlife poachers, and UNICEF is building a machine to detect malnutrition using facial recognition.
AI Technology and Health Care
AI technology is helping globally, especially in rural countries in Africa. It is constantly undergoing development for health care but relies on the government, NGOs and medical professionals to authorize machines for medical use and support. AI can diagnose patients, recommend treatments and discover global viruses. For those living in rural and developing nations, AI is lifesaving as it can locate injured people which a normal navigation or GPS system cannot do, and send medicine and medical supplies via drones. It also provides qualified doctors to countries with a lack of medical professionals and to those who need a second opinion on diagnoses, treatment and surgery. This reduces costs, manual labor and mortality rates and develops education in health care and literacy.
In 2022, the University of West Scotland developed new AI technology that enables lung diseases to be identified faster with an accuracy of 98%, meaning diseases are less likely to spread and more people will be correctly diagnosed before a disease progresses and can receive treatment. Further research has found that it can detect COVID-19 cases. This technology is especially useful in developing nations during winter periods especially and globally in general. This will not replace human labor but will support hospitals. This AI technology cuts short the long wait and use of CT scans, blood tests, x-rays and ultrasounds, cutting down further costs and time taken to identify disease and illness.
– Deanna Barratt
Photo: Wikimedia Commons
https://borgenproject.org/wp-content/uploads/logo.jpg
0
0
Naida Jahic
https://borgenproject.org/wp-content/uploads/logo.jpg
Naida Jahic
2022-12-05 01:30:12
2022-12-01 11:10:22
How AI Technology is Helping Developing Nations