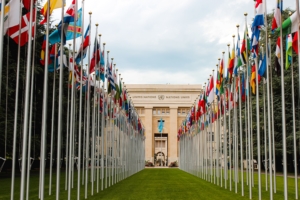 There is plenty of debate on the significance of foreign aid as well as a lot of misconceptions. John F. Kennedy once said regarding foreign aid, "…our economic obligations as the wealthiest people in a world of largely poor people, as a nation no longer dependent upon the loans from abroad that once helped us develop our own economy – and our political obligations as the single largest counter to the adversaries of freedom." Although foreign support is met with resistance from some, the majority of Congress and its constituents see the importance. According to a Chicago Council survey in 2019, 69% of Americans thought it would be best for the U.S. to take an active part in world affairs. However, 30% thought the U.S. should not be involved at all. Despite attempts to cut the budget and its value put in question, there are many members of Congress advocating for foreign aid.
U.S. Foreign Aid
Foreign aid is funding allocated from the United States' budget for global health programs. It also goes towards U.S. military training, United Nations peacekeeping and global development assistance. There are many aspects in which U.S. foreign aid is beneficial to the entire world. For example, foreign aid increases national security. U.S. foreign aid does this by helping alleviate the poor conditions that lead to terrorism by stabilizing poverty-stricken and conflicted countries.
When other countries are doing well, there is more exchange for American goods and the increase of global trade partners. Giving aid to others also improves our nation's diplomacy and higher position in world leadership.
According to most opinion polls, Americans think about 25% of the U.S. budget goes to foreign assistance. However, in reality, it's significantly less. In 2018, the United States allocated an estimated $46.89 billion to foreign aid which is only about 1% of the total federal funds. Many political leaders are aiming to protect and increase the foreign assistance budget. Here are just a few of the many members of Congress advocating for foreign aid.
Sen. Jeanne Shaheen, D-NH
One of the members of Congress advocating for foreign aid is Senator Shaheen. She is currently serving as the senior United States senator from New Hampshire. Senator Shaheen is also a member of the Senate Committees on Foreign Relations. She advocates for a strong and clear foreign policy to restore and sustain global relations and national security. She co-sponsored The Foreign Assistance Revitalization and Accountability Act of 2009. This is a bill aiming to make U.S. foreign assistance more effective and transparent.
Shaheen also raised concerns about foreign aid budget cuts. She said there is too much humanitarian work needed in the world right now.
Sen. Robert Menendez, D-NJ
Senator Menendez served as Chairman of the Senate Foreign Relations Committee in the 113th Congress and is now a ranking member. He is serving as Senator of New Jersey and has a reputation for his global leadership and staunch commitment to helping others. While Chairman of the Senate Foreign Relations Committee, he sought to modernize foreign policy and give substantial support to the most vulnerable; always advocating for the underdog. In regards to cutting the foreign aid budget, he equated it to cutting funding for human rights and democracy which he states doesn't speak to the nation's core values.
Sen. Marco Rubio, R-FL
Currently serving as a Majority member of the Senate Foreign Relations Committee and senator of Florida, Senator Rubio has advocated the importance of bolstering foreign aid and foreign affairs stating, "foreign policy is domestic policy". For instance, Senator Rubio has been noted to advocate for global engagement through foreign aid. In acknowledgment of past suggested budget cuts, he responded that retreating from global engagement is bad for national security and our economy.
Strengthening the Foreign Aid Budget
The many members of Congress advocating for foreign aid understand the importance of protecting and maintaining a healthy budget for foreign assistance. Foreign policy is a non-partisan interest and it benefits the entire world. Foreign policy is not charity, it is imperative for the nation's diplomacy, security and economy. For all developed countries and global leaders, assisting developing nations is also a matter of human rights. It also concerns maintaining peace and prosperity for all. In conclusion, when we help others, we help ourselves.
– Tara Hudson
Photo: Unsplash
https://borgenproject.org/wp-content/uploads/logo.jpg
0
0
Kim Thelwell
https://borgenproject.org/wp-content/uploads/logo.jpg
Kim Thelwell
2020-12-05 01:30:12
2020-12-02 09:10:41
Members of Congress Advocating for Foreign Aid