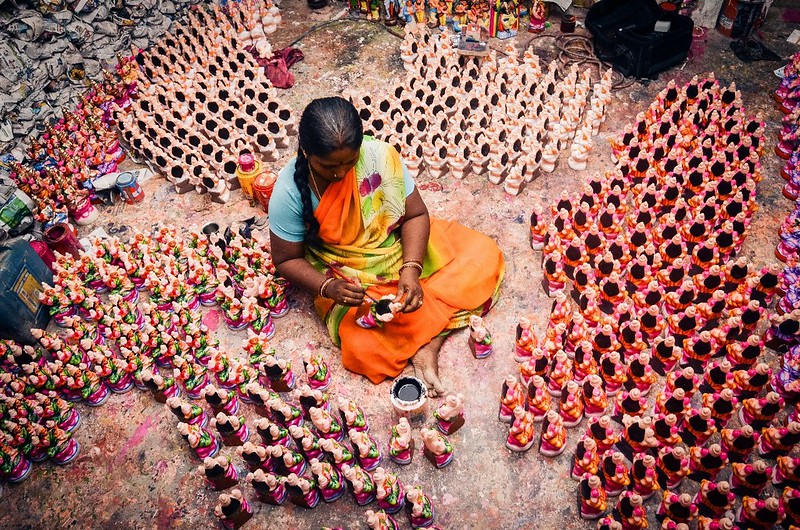 Artisan work is a significant source of employment in the developing world, particularly in South Asia, where it makes up a significant proportion of the workforce. South Asian artisans practice skilled trades using traditional methods and locally sourced materials, and this enables them to perpetuate their culture through their craft.
However, the monthly income of artisans can vary greatly due to factors such as fluctuating tourist flows, lack of access to online commerce and lack of regulation to protect their businesses and wages. These issues have stunted the potential of artisanal work to generate employment and boost incomes globally. Despite being the second-largest employer in the developing world after agriculture, the artisan sector remains largely untapped in terms of its economic development potential. Addressing these issues and promoting the growth of the artisan sector could have significant economic benefits, both for individual artisans and for their countries as a whole.
Artisans are victims of the volatility of the tourism market. In fact, tourists make up the majority of buyers, which further destabilizes the income of artisans, as the number of tourists varies greatly between the high and low seasons. This forces artisans to work several jobs in order to make ends meet, and many are giving up the trade in search of more stable sources of income. The United Nations (U.N.) estimates that 30% of artisans in India have left the trade in recent years. The COVID-19 pandemic dramatically accentuated this phenomenon, putting many more artisans out of work.
A Lack of Regulation Around Artisanal Professions
The volatility of tourism impacts artisans because it is not counterbalanced by stability. Across the globe, no laws specifically pertaining to artisans' income and taxation, and they receive no legal protections against exploitative loans or partners. Consequently, approximately 95% of artisan businesses globally do not benefit from a set minimum wage, and most are compensated on a piece-rate rather than hour-rate basis.
Artisans, especially the ones living further away from big cities, are vulnerable to unregulated middlemen who try to reach more buyers. However, in many cases, the middlemen illicitly profit from the artisans' work, further hindering their growth.
The lack of regulation also prevents the impact of artisans from being reflected on the national market, as sales go unrecorded due to the informal nature of the artisanal trade. A case in point is India where approximately 200 million people participate in the artisan economy, with 90% operating in the informal landscape.
Challenges and Potential of Women Artisans
Women make up approximately three-fourths of artisans worldwide, and over half of artisans in South Asia. Craft-based work provides a unique opportunity for women in South Asia, many of whom are unable to work outside the home due to deeply entrenched patriarchal norms and family care responsibilities. Women artisans invest 90% of their earnings back into their families, a significantly higher percentage than the 35% invested by men.
However, due to a prioritization of extensive practical training in their craft, poverty and various other factors, 90% of Indian women artisans have no formal education. Thus, despite their specialized skills, craftswomen's incomes are very similar to those of unskilled workers. In India, the average income for an artisan ranges from just $3.40 to $4.50 a day in cities and $0.89 in rural India, whereas the minimum wage for an unskilled worker is $3.60 a day.
Solutions for Progress
For the craft industry to thrive, there is a need to empower artisans in a way that allows them to make a decent living out of their work. With this aim, the Ethik Collective created an online marketplace connecting artisans with stable business partnerships worldwide. The Collective thus works with artisans, mostly women entrepreneurs, to allow them to expand their business beyond the local market. Since its creation three years ago, the collective has supported 2,696 artisans providing for 10,595 family members. Their initiative helps create consistent work, allowing artisans to stabilize their income and invest in long-term livelihood assets.
The Business, Enterprise and Employment Support for Women in South Asia (BEES), a network set up between South Asian countries and the World Bank, also empowers South Asian artisans by providing them with capacity building, technical and financial assistance and new market opportunities. The network allows women artisans to hone important skills such as product development or marketing, contributing to the craft industry's survival.
Looking Ahead
South Asian artisans play a vital role in preserving cultural heritage and are an essential source of employment. However, they face many challenges, such as instability caused by fluctuating tourist flows, lack of access to online commerce and a lack of regulation to protect their businesses and wages. These unresolved issues have hindered the potential of artisanal work to contribute to the economic development of their countries. Solutions such as Ethik Collective's marketplace or BEES enable artisans to expand their businesses and stabilize their incomes while preserving their cultural heritage. Supporting and empowering artisans could have a positive impact on communities and, more broadly, the economies of developing countries. Such possibilities highlight the importance of addressing the instability of South Asian artisans.
– Hanna Bernard
Photo: Flickr
https://borgenproject.org/wp-content/uploads/logo.jpg
0
0
Jennifer Philipp
https://borgenproject.org/wp-content/uploads/logo.jpg
Jennifer Philipp
2023-06-08 01:30:11
2023-06-04 14:04:39
Addressing the Instability of South Asian Artisans