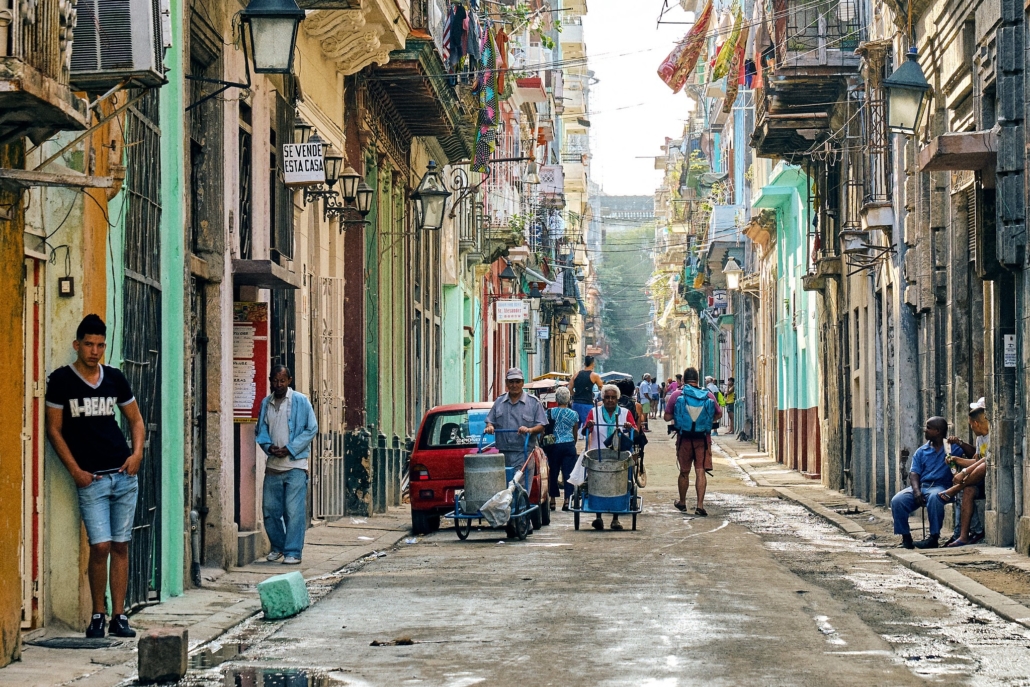 Although the Cuban Communist Party has relaxed some aspects of the nation's government-directed socialist economic policies, Cuba remains one of the world's only communist states. Cubans face many economic challenges due to their somewhat politically isolated status, especially since the dissolution of the Soviet Union and subsequent loss of Soviet aid. Despite this, Cuba perseveres and continues to address domestic quality of life concerns. Here are 10 facts about sanitation in Cuba.
10 Facts About Sanitation in Cuba
Water Shortages: The extreme drought in 2017 highlighted the limitations of Cuba's outdated water infrastructure and revealed the Cuban government's inability to quickly mitigate water shortages. Urban residents without water could request government water delivery, but the overburdened government struggled to respond adequately. Instead, citizens often turned to the black market to acquire water.
National Hydraulics Program: The second point among these 10 facts about sanitation in Cuba is that the country's ancient water pipelines are prone to leakage and inconsistent water flow, often resulting in flooded streets and homes without running water. Even in periods of drought, water loss and inefficient water distribution are more of an obstacle than a straight lack of water. To correct these problems, Cuba implemented a national hydraulics program funded with loans from OPEC, Saudi Arabia, China and others. So far, workers have installed 227,000 new water meters and cut water loss by 10 percent.
Water and Sanitation Improvements: As of 2015, access to drinking water and sanitation facilities had improved drastically. Many (94.9 percent) of the population has improved access to drinking water sources in the form of safely piped water, clean public taps and rainwater collection while 93.2 percent have better access to sanitation facilities. These improvements are more apparent in urban settings, as 96.4 percent of city-dwellers and only 89.8 percent of the rural populace have benefited from refurbished water infrastructure. Droughts have disrupted the available and consistent delivery of clean water, but Cuba continues to revamp its water and sanitation infrastructure.
Environmental Challenges and UNESCO: Decades of periodic oil spills and the release of wastewater into the historic Bay of Cienfuegos has harmed Cuba's fishing industry, damaged the environment and threatened tourism. UNESCO's designation of the bay as a protected World Heritage site spurred some environmental recovery efforts. Cuba's government estimates that restoration will cost approximately 1 million pesos.
Class and Demographics: Despite frequent shortages and infrastructure issues, Cuba's drinking water supply is safe in most parts of the country. However, there are class and demographic divides in water access as the urban poor and rural populations are the most likely to go without, while Cuba often caters to tourists. The goal of Cuba's hydraulics program is to completely supply the entire population with adequate amounts of clean water so that the Cuban government actively engages itself in fixing these problems.
Water Treatment Facilities: Cuba's surface water treatment facilities use rapid sand filtration methods, which are not always effective due to a shortage of chemicals and equipment. Consequently, only 62 percent of Cuban citizens have access to clean water. Aiding domestic efforts aimed at fixing Cuba's water issues, China installed fourteen water purification plants in central Cuba.
Water Affordability: Although clean water is not as readily available as Cubans might desire, it is always affordable. As is the case with most social institutions in Cuba, water utilities receive government subsidies and are therefore cheap. As of 2018, a household of four paid less than $0.25 USD for water service.
Sanitation Infrastructure Improvements: Much of Cuba's sanitation infrastructure is decades old and does not serve most of the rural population. Cuba is in the process of modernizing its wastewater treatment facilities with assistance from the United Nations Development Program. Additionally, Italy's TECOFIL is responsible for opening 300 functional and environmentally sustainable wastewater treatment plants.
Benefits of Tourism: Tourism is a critical component of Cuba's economic activity, so the nation sometimes caters to tourists at the expense of the native populace. While tourists have ready access to clean bottled water, ongoing droughts and other troubles sometimes leave the locals rationing a limited supply of available drinking water. On the bright side, tourism brings international attention to Cuba and may lead to beneficial foreign enterprise along the lines of TECOFIL's operations.
The EU and UNDP: The EU pledged 600,000 Euros to Cuba in order to combat the effects of the 2017 drought. This fund is to preserve Cuba's capacity for agricultural production and maintain drinking water supplies. Between 2014 and 2018, the UNDP spent 25.4 million Euros on 46 environmental and biodiversity focused projects in Cuba, including improvements to water quality and quantity. The UNDP plans to intensify its efforts in this regard.
These 10 facts about sanitation show that although the country struggles to provide its citizens with adequate sanitation facilities and consistent clean water supply, the government is taking concrete steps towards improving the status quo. Economic reform and continued foreign investment will contribute to Cuba's progress.
– Dan Zamarelli
Photo: Flickr
https://borgenproject.org/wp-content/uploads/logo.jpg
0
0
Jennifer Philipp
https://borgenproject.org/wp-content/uploads/logo.jpg
Jennifer Philipp
2020-02-01 07:30:38
2020-01-28 08:51:43
10 Facts About Sanitation in Cuba