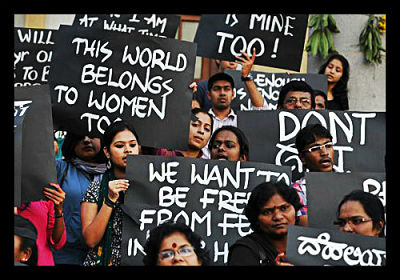 India has two faces. The first is the one we can see in Bollywood movies: beautiful actresses, extravagant costumes and dances, romantic scenarios, love. The second is closer to reality. Women forced into marriage because their parents cannot support them, waves of femicides, sexual harassment – a few examples on a long list. So, between the romanticized image of women and that of women as victims of society, what is it really like to be a woman in India?
Among the G20 nations, a 2012 poll by the Thomson Reuters Foundation ranked India as the worst place to live for women. Why? In a highly religious and strictly stratified society, women have the lowest status, without a doubt.
In traditional Indian society, women are perceived as inferior to men. Mere housewives, they are expected to stay at home, bear children, and take care of household chores. Most women, even nowadays, are forced into marrying a husband that their family chooses. Furthermore, although female literacy rates have increased, only 65.46 percent of women could read and write in 2011 as compared to 82.14 percent of men. This 16.68 percentage-point gap can be attributed to the traditional view that women do not need to go to school.
This patriarchal mindset is still deeply embedded in Indian mentalities. Even before their birth, women are the victims of discrimination due to the hefty dowry the girl's family must give the husband's family upon her marriage. Because women cannot inherit from their families, parents have a strong sex-selection bias towards boys to ensure the survival of their descendant line, triggering waves of femicides. Indeed, femicide has been a great plague in India. Research conducted by economists Siwan Anderson and Debraj Ray found that nearly 2 million women are missing in a given year, due to female foeticide and girl killings.
Despite this appalling observation, femicide was only officially recognized as gender-related killing on March 15 of 2013, during the 57th session of the Commission on the Status of Women (CSW). For the first time, governments are urged "to implement or strengthen national legislation in order to punish such killings of women, and girls" according to the United Nations Entity for Gender Equality and the Empowerment of Women (UN Women). For the first time, femicide is seen as a crime in itself, and governments ought to "end impunity by ensuring accountability and the punishment of perpetrators of such crimes and reparation for the victims".
The CSW resolution arrives in a time of social turmoil after the gang rape and subsequent death of a 23 year-old medical student on a New Delhi bus. The wave of rape protests that occurred in New Delhi after this incident spread across Asia, with demonstrations in Nepal, Sri Lanka, Pakistan and Bangladesh. But these protests did not end sexual harassment in India: in April 2013, a 5 year-old girl in New Delhi was raped and tortured for 40 hours before dying.
But it is really the recent scandal involving an American tourist gang-raped by three men in Northern India that drew more widespread international attention to the issue. In the face of these deplorable incidents, women across India and beyond have been mobilizing for their cause, and the heightened international awareness offers hope that Indian women can look forward to a better future.

– Lauren Yeh
Source: BBC, UN Women, Reuters, Guardian
Photo: JNM Journal
https://borgenproject.org/wp-content/uploads/logo.jpg
0
0
Borgen Project
https://borgenproject.org/wp-content/uploads/logo.jpg
Borgen Project
2013-07-15 11:00:45
2020-07-02 12:08:02
What it's Really Like to be a Woman in India