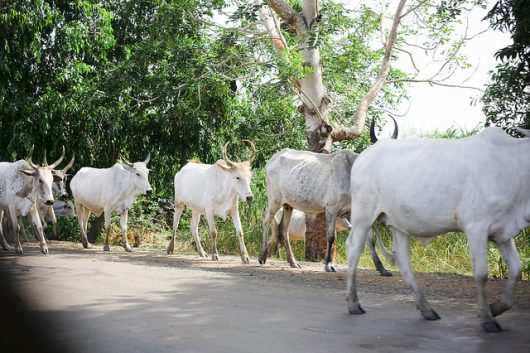 With adequate rainfall, plentiful vegetation and a low pest population, Ghana's Northern Savannah Ecological Zone is an optimal environment for cattle production. Despite this prime landscape, livestock production in Ghana has remained low. Insufficient or otherwise absent livestock policies, uninformed ranching practices and lack of funding are among the many factors responsible for underperforming livestock production in Ghana.
Limitations of Meat Access
Over the years, the domestic meat industry has become so problematic that it became cheaper for Ghana to import its meat from South America and Europe. Furthermore, poor cattle production has contributed to nationwide nutrition issues. According to USAID, about 1.2 million Ghanains face food insecurity, and anemia and iron deficiency afflict much of the population.
Recognizing meat access limitations, nutrition deficiencies and cattle mortality in the country, Kamal-Deen Yakub, Damian Brennan and Luis Grolez came together to find an innovative solution to such a persisting problem. In 2013, the trio launched Farmable, a "crowdfarming" platform that connects investors to smallholder cattle farmers in the country.
Crowdsourced funding enables farmers to take better care of their cattle, receive education in agricultural best practices and business development and sell in the domestic market, ultimately improving livestock production in Ghana over time.
Here's How it Works:
Investors visit Farmable 

to select a farm in Ghana and start a new cow, which they can name and give certain attributes. Popular funded cows include Borat Cow, Moochacho and Moominator. Alternatively, crowdfunders can invest in a cow that's already on it's way to becoming fully funded.

Once a cow has 20 investors, it is linked to a real cow on the farm of the investor's initial choosing.

Farmhands tag the cow, and investors can track the cow's health and progress online through preparation for sale in the domestic meat market.

After the meat sells, the investor can reap profits. Investments help continue farmer education, production and marketing efforts.
Since launching, Farmable has helped to revolutionize the cattle ranching industry for participating farmers. "The company has succeeded in bringing together 7,500 cows owned by 600 smallholder farmers. We have sold about 1100 cows through the platform direct from the farms," cofounder Kamal-Deen Yakub told The Borgen Project.
Education and Optimization
In light of these successes, Farmable has had to put the crowdfarming platform on a temporary hold as it gears up for its next phase. The company is focusing on educating farmers and optimizing production in the interim: "We engage farmers through partnership with existing incubators working to build capacities of smallholder farmers," Yakub explained.
Farmable recruits subject-matter experts from the University of Ghana, local veterinary officers and experienced farmers to provide training for participants.
Livestock Production in Ghana
Over the next few years, Farmable plans to establish renewable energy cattle ranches in Ghana to promote sustainable practices and cut down on costs. The company will use dung and agricultural waste to produce manure and biogas respectively to sustain these renewable energy ranches for free. Yakub encourages potential donors to stay tuned for this important next step.
The crowdfunding platform will go live again in the coming future, and Yakub hopes investors "are ready to participate in the crowdfarming and become cow backers."
– Chantel Baul
Photo: Flickr
https://borgenproject.org/wp-content/uploads/logo.jpg
0
0
Borgen Project
https://borgenproject.org/wp-content/uploads/logo.jpg
Borgen Project
2018-03-04 01:30:14
2019-11-24 11:56:39
How Crowdfarming is Optimizing Livestock Production in Ghana