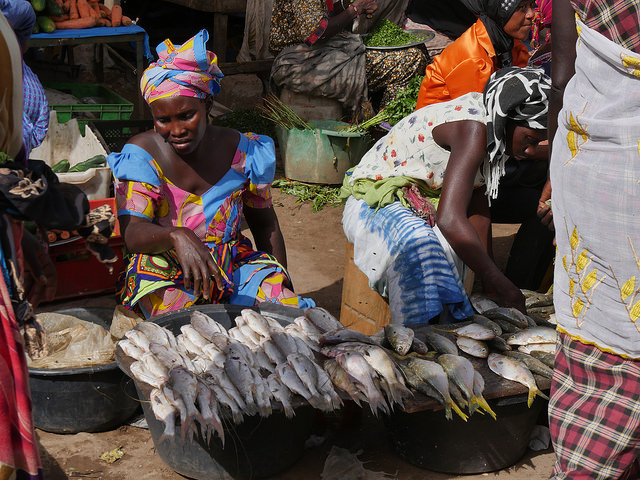 The Republic of Gambia is a country on the North Atlantic coast of West Africa and is the smallest country on the African mainland. It is classified as a low-income, food-deficit country, with about one-tenth of its population being food insecure and almost one in three Gambians vulnerable to food insecurity. As of 2013, 57 percent of the population lived in urban areas where over one-third of residents are estimated to be living in sub-standard conditions.
The main cause of hunger in Gambia is the unpredictability of the crop harvests. Harvests have shrunk in recent years, with food prices rising considerably since 2008. One of the factors that heavily affects the crop harvest is Gambia's climate, which is characterized by short rainy seasons. As well as being under-resourced and unpredictable, the agriculture in Gambia is heavily affected by climate change, with extreme weather events and rising sea levels driving down the output even further.
A Gambian woman, Sarjo Dibba, one of two wives to a local groundnut farmer who lives in the village of Jalangfarri, told ActionAid, "The children are crying and we can only share two cups of rice between all of us. Last year we had three meals a day, and now we only cook lunch, while saving half of it for dinner. On some days, when the money from charcoal is not good, I don't eat anything."
The family harvests groundnut, millet and cassava, saving the millet for food and using the money generated from the groundnut and cassava harvests to pay for rice, cooking oil and other essential food items. In good years, the food supply from the harvest will be enough to last them until the next season's harvest, with the last two months necessitating the use of basic rationing, typically referred to as "the hunger season."
After coming off a particularly poor rainy season and harvest, Sarjo's husband has resorted to making charcoal, which has been long banned in Gambia due to rampant deforestation. He also has begun fetching firewood in hopes of making money for his family anyway he can.
So, how can we help solve the issue of hunger in Gambia?
It is not an easy solution, but there are several steps being taken to combat extreme poverty and hunger in Gambia. One method is The World Food Programme's (WFP) Food for Education, which is a program that provides school meals to children in Gambia. There are also things that can be done at home, such as sending WFP cash contributions directed toward supporting Food for Education. Additionally, lobbying respective governments and authorities in support of WPF's program is another great way to help.
– Drew Fox
Photo: Flickr
https://borgenproject.org/wp-content/uploads/logo.jpg
0
0
Borgen Project
https://borgenproject.org/wp-content/uploads/logo.jpg
Borgen Project
2017-10-28 01:30:19
2020-01-10 12:28:10
Addressing the Causes of Hunger in Gambia