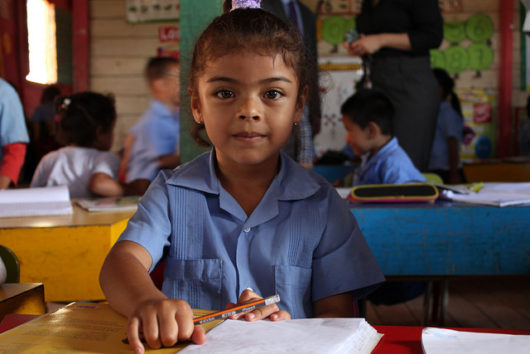 As one of the largest and poorest countries in Central America, Honduras faces several obstacles in girls' education. The people of Honduras fear gang violence and human trafficking. Child labor and domestic violence are also issues that the government continues to combat. These are only a few facts that impact education in Honduras and the reasons why one in three Honduran girls drop out of school every year. The top 10 facts about girls' education in Honduras include problems connected to cultural attitudes, quality of education, and the issues related to crime.
Top 10 Facts about Girls' Education in Honduras
Primary school (ages 6 to 12) is compulsory and free to all Honduran children. There is an 80 percent rate of completion of primary school nationally. In 2014, the Honduran Ministry of Education created a Strategic Plan that was designed to correct educational issues at every level. One of the first steps was to make the first two years of secondary school mandatory. Coverage of secondary education level for girls is 53 percent, whereas coverage for boys is 46 percent.
A national survey indicates that girls in urban settings have a 7 percent illiteracy rate, compared to 5.5 percent of illiterate urban boys. Additionally, 16.8 percent of girls in rural settings are illiterate, while 17.5 percent of rural boys are illiterate. Higher rates of poverty correlate directly with higher rates of illiteracy. This is because poorer families, typically those in rural areas, are only able to send their girls to school for 5.8 years, which dramatically increases rates of illiteracy. On the other hand, wealthier families in the larger cities are able to send girls to school for 11 years, which lowers female adult illiteracy to 2.4 percent.
From 2008 to 2012, 98 percent of Honduran girls were enrolled in primary school. However, in Honduras, one out of four children are drop-outs. Interestingly, drop-out rates have been linked to the level of parental education as 78 percent of children who dropped out of school in 2016 had parents with either no education or primary education only.
A 2015 study indicates that 29 percent of girls performed unsatisfactorily in math, while 62 percent were classed as needing improvement. For boys, performance in the same category resulted in 32 percent unsatisfactory and 60 percent needing improvement. In addition to performing at lower rates than Honduran boys, performance standards for Honduran girls are significantly lower than other regional Latin countries.
Because of high rates of crime, girls in urban settings are often forced to not attend class or drop-out altogether for fear of their own safety. For urban girls, the threat of harassment and sexual assault from gang members is a debilitating reality. Gangs often establish their dominance in an area of a city by murdering girls and leaving their mutilated bodies to be found in public places.
While rural areas have less crime, the people living in rural settings have more pressing financial concerns. Many rural children in Honduras are forced to work at a young age, and girls, in particular, are tasked with taking care of younger siblings, as well as marrying young and starting families of their own. A 2014 program launched by Population Services International called Chicas en Conexión aims to empower nearly 700 rural girls to make choices about their own lives. The program also promotes equality by involving community leaders, providing safe spaces, and lobbying for equality legislation.
Not only children suffer from the country's impoverished educational system. Teachers in rural areas have difficulty obtaining up-to-date and functional teaching materials, as well as facing the issue of inadequate school buildings. However, teachers are fighting back. By partnering with the U.N. Refugee Agency, teachers in Honduras are making their voices heard and advocating for better policies to reduce the systemic shortfalls in the Honduran educational system. The Honduran Ministry of Education has promised to increase school funding and implement a prevention and protection strategy for schools by 2020.
In 2014, only 24.4 percent of girls enrolled in college courses, significantly less than many other developed countries in the region. Moreover, even for girls who have higher education, there is a much lower chance of being hired for work outside of the home. In 2018, women made up only 37 percent of the labor force. This is due to the cultural custom of women working inside the home.
An estimated 26 percent of Honduran women become mothers before the age of 18, which contributes to the high drop-out rates of Honduran girls. In 2013, the Committees for the Prevention of Pregnancies and STIs among Adolescents (COPEITSA), a peer-education sexual health program for Honduran children, was launched. The program teaches sexual health and family planning- topics that are all but afterthoughts in Honduran education and public awareness.
As recently as 2016, 34 percent of girls were married before the age of 18. However, in 2017, the Honduran government banned child marriage. Even with parental permission, it is now illegal in Honduras for anyone under the age of 18 to be married. This is a drastic change from past decades, where child marriage was common and kept girls uneducated and in poverty.
Since 2007, the rate of education for girls has almost doubled in Honduras. Even taking into account school performance and drop-out rates included in the text above, the number of girls being enrolled in school and pursuing secondary education has improved over the last decade. It is clear from the top 10 facts about girls' education in Honduras that many of the new changes implemented by the Honduran government are designed to favor girls. This is an effort to address mistakes made in the past and correct the systematic failure of girl's education in Honduras. As of 2014, the Strategic Plan set forth by the Honduran Ministry of Education has addressed many of the pitfalls in their education system. The Honduran government continues to create legislation designed to promote equality for girls and better the educational prospects of girls nationwide.
– Rachel Kingsley
Photo: Flickr
https://borgenproject.org/wp-content/uploads/logo.jpg
0
0
Kim Thelwell
https://borgenproject.org/wp-content/uploads/logo.jpg
Kim Thelwell
2019-02-26 01:30:25
2020-02-11 10:53:41
Top 10 Facts about Girls' Education in Honduras