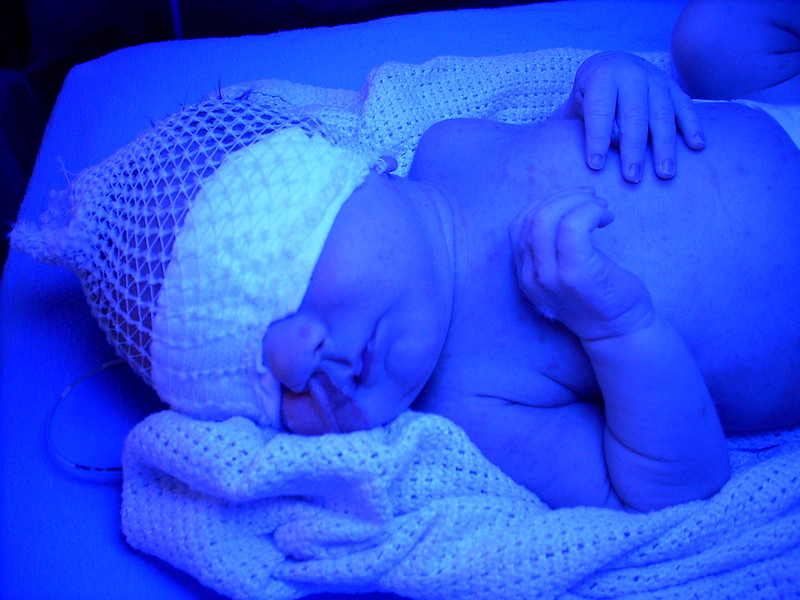 Neonatal Jaundice is a common problem in newborns and it can have life-threatening complications. Traditional treatment is difficult in low-resource settings, as it requires access to a stable source of electrical power for prolonged periods.
What Is Neonatal Jaundice and How Is It Treated?
A build-up of a substance called bilirubin in the blood causes jaundice. The liver is responsible for removing bilirubin from the body. However, newborn babies' livers are not yet fully developed. Unfortunately, high levels of bilirubin in the blood can be toxic to the brain, thereby necessitating treatment. Every year, approximately 6 million babies do not receive jaundice treatment.
One of the main forms of neonatal jaundice treatment is phototherapy. In this procedure, babies undergo UV light exposure. They are placed into a crib-like piece of equipment that shines UV light onto the skin for around 48 hours. This results in the conversion of toxic bilirubin into a safer form that is not harmful to the brain and can be easily excreted in the urine.
What Is the Global Context of Neonatal Jaundice?
A study from 2010 by the Child Health Epidemiology Reference Group reported that neonatal jaundice was responsible for a mortality rate of 119 per 100,000 live births in Eastern Europe/Central Asia, Latin America, Sub-Saharan Africa and South Asia. In comparison, the mortality rate in high-income countries is around one per 100,000. The study also found the complication of brain toxicity to be prevalent in 73 per 100,000 live births in the aforementioned regions. In high-come countries, the prevalence rate is 10 per 100,000.
Standard commercial phototherapy machines cost around $3,000 and require a constant supply of electricity. As things stand, heavy power usage is a major concern for hospitals in low-income and middle-income countries. Not only is the demand for power costly, but there is also no guarantee of access due to unreliable power supply in these settings. For this reason, the use of traditional phototherapy machines is challenging in low-resource settings.
The Bili-Hut
Dr. Donna Brezinski developed an innovative solution known as the Bili-Hut. It is a portable, battery-operated device that only costs $400 per unit. The design utilizes LED lights that can run on a 12-volt car battery for up to a month. Additionally, it has a lower upfront cost and can run independently, with no need for connecting to a hospital's power supply source.
The Bili-Hut forms part of a kit, which also includes a "Bili-ruler" and a "Bilistick". The former measures the degree of jaundice while the latter measures jaundice concentration in a newborn's blood.
Crib'A'Glow
Virtue Oboro identified the need for more effective phototherapy treatment in Nigeria when her son experienced a delay in receiving treatment due to a lack of phototherapy units. She developed the Crib'A'Glow, a phototherapy unit that runs on renewable energy using a solar panel, a battery and a charge controller. The solar panel powers LED lights in the crib to provide a fully functioning phototherapy unit. It can function in low-resource settings and only costs around $300-$550.
Using solar power is an innovative solution. Apart from minimizing the running cost of the unit, it also ensures the unreliable power supply in Nigeria has no impact on the service process.
Virtue's solution has helped to treat more than 1250 babies across Nigeria since 2016. Additionally, the Champions of Science Africa Innovation Challenge 2.0 provided additional funding for the project in 2019, with the hopes of reaching 1 million babies.
With the help of innovators like Virtue and Dr. Brezinski, there is hope for overcoming the challenges of delivering phototherapy in low-resource settings.
– Jess Steward
Photo: Flickr
https://borgenproject.org/wp-content/uploads/logo.jpg
0
0
Jennifer Philipp
https://borgenproject.org/wp-content/uploads/logo.jpg
Jennifer Philipp
2023-05-03 01:30:48
2023-05-03 06:52:07
Using UV Light Treatment for Neonatal Jaundice in Low-Resource Settings