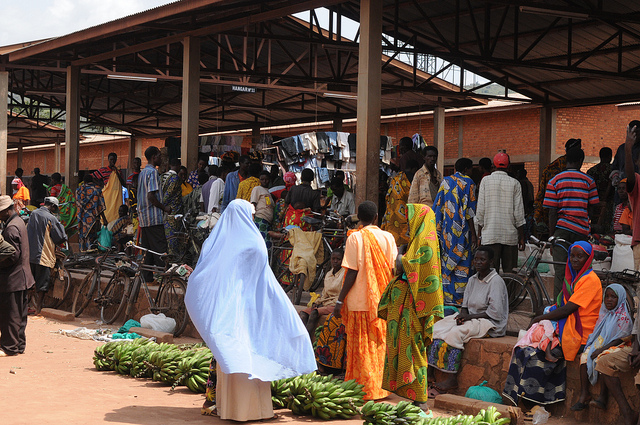 Burundi is a resource-deficient country that has been struggling to emerge from years of civil war. Underdeveloped in the manufacturing sector with the agriculture area accounting for roughly 40 percent of its GDP and employing over 90 percent of the population, the large majority of Burundians rely on agriculture to make a living. In order for the people of Burundi to grow income-generating businesses in the agricultural sector, the demand for financial assistance must be able to meet the supply. Poverty among the population has limited the capacity for credit access in Burundi.
Being able to obtain a loan at banks in Burundi is not easy; Burundi ranks 129th out of 137 economies in the 2017-18 Global Competitiveness Index compiled by the World Economic Forum. As a result of this difficulty, most entrepreneurs turn to loan sharks.
Traditional banking services are not sturdy or large enough to serve the population's needs in building assets and establishing property. Retail and corporate banking is at a very early stage of development and many depend on microcredit or informal lending for credit access in Burundi.
Burundian farmers rely on agriculture for their livelihoods, and One Acre Fund (OAF) has experienced an immense demand from these farmers for the services they offer. One Acre Fund is a nonprofit that offers credit and guidance in order to assist small landowners in growing their way out of famine and help them build thriving futures. Burundi is just one out of the many developing countries they serve.
OAF offers a complete package of services, utilizing a four-step market-based strategy that allows the organization to remain financially sustainable and grow to touch the lives of more farmers each year.
Asset-Based Loans
Financing for quality seeds and fertilizer is given to farmers on a credit basis, and they are offered a flexible repayment plan that allows them to repay their loans in any amount throughout the term.
Delivery
Farm inputs are delivered to areas that are within walking distance of all the farmers that OAF serves.
Training
Trained professionals offer the farmers guidance on advanced agricultural techniques throughout the entire season.
Market Facilitation
Solutions for storing crops and techniques on monitoring the constant variations of the market are taught to the farmers so that they are able to time the sale of their crops in order to maximize profits.
This strategy has allowed for thousands of families to yield higher-quality crops without spending additional funds. With Burundi being one of the poorest countries globally, farmers that are usually starting at a low-profit baseline have seen large improvements in their earnings since being involved with One Acre Fund. Subsequently, retention of farmers and loan repayment rates in Burundi are some of the highest of all the countries OAF serves. By providing all of these services in one, One Acre Fund allows farmers a useful way to get farming help and credit access in Burundi.
– Zainab Adebayo
Photo: Flickr
https://borgenproject.org/wp-content/uploads/logo.jpg
0
0
Borgen Project
https://borgenproject.org/wp-content/uploads/logo.jpg
Borgen Project
2018-02-21 07:30:06
2019-12-17 12:20:07
Farmers Gain New Options for Credit Access in Burundi