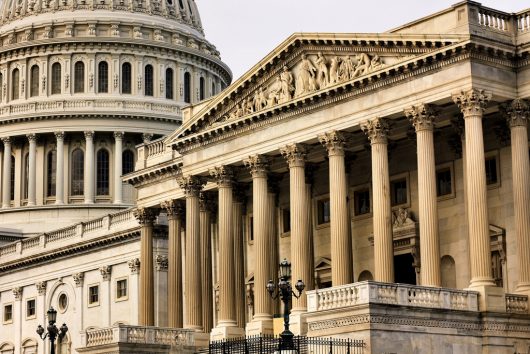 What is the House of Representatives? The House of Representatives is one of two chambers that make up the United States Congress (the other is the Senate). The House consists of 435 representatives who serve the people of all 50 states. Five delegates represent the District of Columbia and four of the U.S. territories (American Samoa, Guam, Northern Mariana Islands and the Virgin Islands), and a resident commissioner represents Puerto Rico. The number of representatives per state depends on the state's population size, allowing each state to be proportionately represented in Congress. Alaska, for example, has only one state representative, while California has 53. This is because California's population is close to 53 times that of Alaska. This population-to-representative ratio does not apply to the District of Columbia or the five U.S. territories; rather, they are allowed one delegate each.
To find out how many representatives there are in any state, visit the United States House of Representatives directory. The United States House of Representatives website assists citizens in finding their district and representative.
Representatives are referred to as congressmen, congresswomen or simply representatives. Constituents, often divided by district, elect representatives to two-year terms. Districts are used to allow the state's population to be more accurately represented in Congress. The state of Alaska is not split into different congressional districts; therefore, the state only has one representative. California's 53 representatives each represent one district within the state.
So what exactly does the House of Representatives do? Powers exclusive to the House of Representatives include initiating tax bills, impeaching federal officials and choosing the President in the case of a tie in the electoral college. The House has several other powers; however, these can only be carried out with the inclusion of the Senate. Congress introduces or passes new laws and changes existing laws. Congress can also override a president's veto under specific conditions.
The House of Representatives is a chamber of Congress made up of representatives who act on behalf of their constituents. Remember that these representatives are in place to serve the people. Asking a member of Congress to support bills that fight global poverty or fund the international affairs budget is as easy as sending an email or making a phone call.
– Catherine Ticzon
Photo: Flickr
https://borgenproject.org/wp-content/uploads/logo.jpg
0
0
Borgen Project
https://borgenproject.org/wp-content/uploads/logo.jpg
Borgen Project
2017-01-09 01:30:24
2020-05-21 14:45:38
What is the House of Representatives?