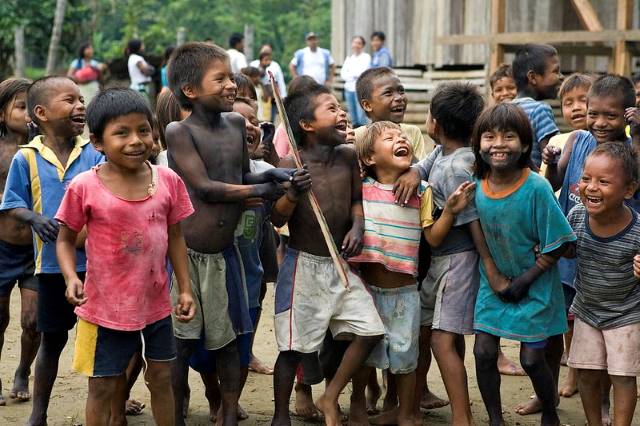 An effort to bring virtual education resources to Colombia's indigenous people helps students learn in their native language and creates opportunities for them to break the cycle of poverty. The COVID-19 pandemic has created food insecurity and economic challenges for many indigenous communities in Colombia and Latin America. Education has also undergone disruption as 137 million children in Latin America and the Caribbean are staying home from school. Fundación El Origen is addressing this lack of education during COVID-19 by bringing virtual learning to indigenous children in Colombia.
COVID-19's Impact on Colombia's Indigenous People
In Colombia, the economic toll of the pandemic has hit the indigenous people of Colombia especially hard. Across Colombia, an estimated 1.5 million indigenous people account for 3.4% of the total population, according to the International Work Group for Indigenous Affairs (IWGIA).
The largest indigenous group in Colombia, the Wayuu people, live predominantly in the region of La Guajira in northern Colombia along the border of Venezuela.
The pandemic has been so detrimental to the indigenous people of Colombia because it has shut down the tourism sector and 90% of people in La Guajira work in informal sectors like tourism. At the same time, remote work or school is nearly impossible as only 10% of people have access to the internet.
Fundación El Origen: Virtual Learning
Fundación El Origen is trying to break the cycle of poverty by making virtual learning an option for all students and by focusing on other educational challenges faced by indigenous and rural youth living in La Guajira. Spanish is the official language in Colombia, however, estimates have determined that people speak 70 different indigenous languages in the country. This presents a challenge to indigenous students who may have grown up speaking a native language and then have to attend classes that teachers teach in Spanish.
To even the playing field for indigenous students, especially during the pandemic, Fundación El Origen has supplied students with tablets that offer instruction in their indigenous wayuunaiki languages. Roughly 260 children from the Wayuu tribe of La Guajira received tablets.
The tablets use a virtual learning program called O-Lab. This program teaches students in Spanish and in their native language. Moreover, it works without an internet connection.
"They have to adapt to an education system that was not made for them," said Tania Rosas, executive director of Fundación El Origen, in an interview with The Borgen Project.
In Colombia, more than 100,000 kids dropped out of school during 2020, largely because of the financial hardships of the pandemic, Rosas said. The problem is daunting and organizations like Fundación el Origen can only help a small portion of students in need. So far, Fundación el Origen has brought online learning to 2,000 children and hopes to reach even more children in 2021.
Access to virtual learning is the latest education barrier but education is not a new fight for the indigenous people of Colombia or Fundación el Origen.
The Importance of Education for the Indigenous
"We have been fighting for many years to have the rights to our lands and have the right to access quality education for our communities," Rosas said. Rosas sees education as the best way for Colombia's indigenous people to have a voice in government and for an entire community to leave poverty.
"If we give them access to education programs to help them understand those problems and create solutions, we are eventually ensuring access to sustainable development in their communities," she said. "We think that education is the best way to empower them and give them the tools to ensure sustainable development."
– Laney Pope
Photo: Flickr
https://borgenproject.org/wp-content/uploads/logo.jpg
0
0
Jennifer Philipp
https://borgenproject.org/wp-content/uploads/logo.jpg
Jennifer Philipp
2021-03-17 01:30:23
2021-03-16 12:48:19
Virtual Learning for Colombia's Indigenous People