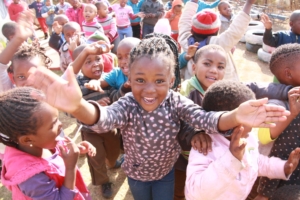 South Africa has blossomed in the 21st Century into a diverse economic powerhouse. Cape Town, its second-largest city, has become one of the largest trading ports on the continent. Like all countries though, South Africa has its share of problems. One of its most overlooked problems has to do with its orphans. These 10 facts about orphans in South Africa will help outline the current situation and the efforts being made to improve it.
    10 Facts About Orphans in South Africa
One of the biggest factors contributing to the number of orphans in South Africa has been the AIDS epidemic. In 2013, around 3.85 million orphans had lost one or both of their parents to the virus. That is more than 62 percent of the total orphan population. AIDS affects orphan rates by varying degrees. In urban centers that have access to better medical care, it is less of a problem. However, in more rural areas, AIDS is more widespread.
One effective way to fight HIV/AIDS is through Antiretroviral Drugs (ARVs). These drugs help slow down the multiplication of the HIV virus. In South Africa, there has been a decrease in HIV mortality rates in communities that have received these ARVs.
The number of orphans in South Africa increased by over 1 million between the years 2002-2009. It was at this time that the South African government recognized the problem and began to take action. It began introducing ARV treatment to the population. As a result, there has been a decrease in the number of orphans over the past couple of years.
By 2017, at least 2.8 million orphaned children in Africa. This includes children with only one biological parent still living. That is roughly 14 percent of all children in South Africa. Although this number is high, it is slightly lower than the year before.
Because it is one of Africa's economic and cultural hubs, many migrants arrive in South Africa's urban centers. Some of these migrants are families traveling together. Others are young children who are coming to the country by themselves. These orphaned children are subsequently placed at great risk of being exploited by criminal gangs and trafficking rings.
UNICEF is working with the South African Department of Social Development and civil society in three main ways. First, it is using research to help inform policy-making. Second, it is creating and supporting community safety networks. Third, it is coordinating other services for orphaned children.
South Africa was one of the first countries to embrace the regulation of the Hague Convention. The Hague Convention is an international treaty that sets strict standards and protections on intercountry adoptions. The guidelines aim to prevent the trafficking of orphaned children and increase the number of safe adoptions.
Many rural communities have taken a proactive stance to create innovative solutions to the orphan problem. Organizations like Children of the Dawn have been created to give financial aid to these rural community groups. Part of this aid is dedicated to reducing HIV cases in rural communities.
Another organization that has done great work with regards to helping orphans in South Africa is the Oasis Haven of Love Foundation. The organization seeks to provide safe housing for abandoned children waiting for adoptive care. It also works to help orphaned children get adopted.
 Jo'Burg Child Welfare is an NGO based in Johannesburg that provides many adoptive services. The organization also engages in advocacy and legislative work and has been serving the greater Johannesburg area for more than 100 years.
These 10 facts about orphans in South Africa show that, while many problems remain, the country has been making improvements in recent years. With continued NGO and government support and continued progress in reducing HIV, the number of orphans in South Africa will continue to decline.
– Henry Burkert
Photo: Pexels
https://borgenproject.org/wp-content/uploads/logo.jpg
0
0
Jennifer Philipp
https://borgenproject.org/wp-content/uploads/logo.jpg
Jennifer Philipp
2019-10-26 07:30:40
2020-01-18 14:40:47
10 Facts About Orphans in South Africa