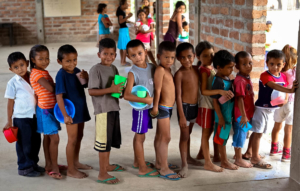 Honduras is located in the heart of Central America with coastlines running along both the Atlantic and Pacific. Honduras' population is nearly 9,750,000 according to World Bank. However, the country has seen a significant dip in population in recent years due to increased gang violence. The country is also recovering from the Presidential election of 2017 in which voter fraud and voter misgivings paved the way for the reelection of Honduras' unpopular President, Juan Orlando Hernandez. One U.N. report determined that the number of people fleeing Honduras, as well as other Central American Countries, has risen by nearly 60 percent as a result.
Children in Honduras and their struggling families are often overlooked as a demographic. Helping Honduras Kids (HHK) is dedicated "to improve the level of dignity, education, opportunity and health for orphaned, abandoned, abused, and/or neglected and special needs children, single mother and families on the North Coast of Honduras." Their mission statement alone alludes to the significant impact HHK has on these children's lives.
Programs to Empower Children
Based in the Honduran city of La Ceiba, HHK's central focus is helping children grow and develop through encouragement, counseling and education. Several programs help, like the Hogar de Amor (Home of Love), which cares for more than 20 children at a time. Though the first Hogar de Amor opened its door in 2007, HHK moved to a new location in 2010 due to pressure from local gangs. Their new home has been going strong for more than six years.
Another key program is the Jungle School. Founded in 2007, the Jungle School is an eight-classroom facility whose 10 teachers instruct over 200 hundred students in grades K-8th. HHK provides uniforms, school supplies and books along with a meal five days a week. The school also staffs a volunteer nurse who provides the students with medical and dental checkups. The nurse provides regular checkups to single and pregnant mothers. HHK subsidizes a Stay in School Outreach program that encourages kids of all ages to remain in school. 62 percent of the poorest children in Honduras will drop out of school by age 16. Programs like the Jungle School offer children the possibility for a brighter future in Honduras.
Aid and Impact
In 2007, gangs drove residents of the Campesino village off their land. HHK, along with Amigos of Honduras, purchased land for the displaced villagers in response. In addition, HHK has donated fortified rice, soup and truckloads of ripe bananas to the village. They have also constructed a central building for the village with a concrete floor and roof which will be used for meals and care of the roughly 350 children living in the village.
In a country plagued by gangs, drug violence, and political corruption, HHK is making a real difference for children in Honduras. The Honduran government does not allow adoptions from private orphanages like HHK. This means that many of these children will have the opportunity to take what they've learned from HHK and build a better Honduras for tomorrow.
–Henry Burkert
Photo: Flickr
https://borgenproject.org/wp-content/uploads/logo.jpg
0
0
Kim Thelwell
https://borgenproject.org/wp-content/uploads/logo.jpg
Kim Thelwell
2019-07-18 05:45:28
2019-11-14 12:54:39
Nonprofit Organization Helps Children in Honduras