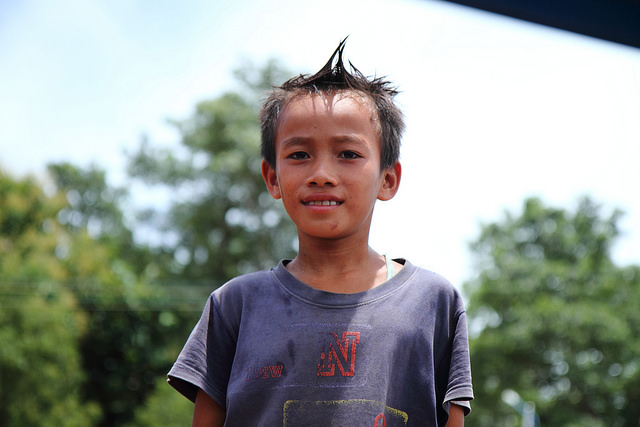 Over the last several years, Thailand has made impressive progress in reducing poverty. It has gone down from 67 percent in 1986 to only 7.2 percent in 2015. While there has been considerable progress made, poverty is still a major problem in Thailand, especially among children. The following are 10 important facts about child poverty in Thailand.
10 Facts About Child Poverty in Thailand
It is estimated that about one million children in Thailand are living in vulnerable conditions. Child poverty in Thailand is a serious issue. These vulnerable individuals include children that live in poverty, have lost their parents, have a disability or have been forced to live on the streets.
Child labor has long been a problem. It is estimated that more than eight percent of children between ages five and 14 are involved in the workforce. Impoverished children have no option but to enter into factory work, fishery work, construction or agriculture. Young children are also often forced into the commercial sex industry. Riley Winter, a student who recently traveled to Thailand, told The Borgen Project she witnessed children were giving tourists foot massages for just a small amount of money.
Around 380,000 children have been left as orphans by the AIDS epidemic. This greatly affects child poverty in Thailand; many of these children are forced to live on the streets or enter the workforce because they have no one to care for them. It is also estimated that 200 to 300 children will be born HIV-positive each year.
Poor children in Thailand do not have full access to medical care. Out of the 20,000 children are affected by HIV/AIDS, only 1,000 of them have access to medical care.
Children are being exploited. Thailand has become wealthier and, consequently, trafficking networks have been expanding to poorer and isolated children in the country. Child poverty in Thailand has led these children to enter commercial sexual exploitation.
Child poverty in Thailand makes it difficult for poorer children to remain in school. They do not have access to the necessary tools to succeed and remain in school so they are often forced to drop out. The wealthiest group has 81.6 percent of children of primary school age enter grade one while only 65.3 percent of the poorest group enter grade one.
Arranged marriages are very prevalent in Thailand today. A man from a wealthy family is often chosen because the dowry system is still utilized in Thailand. The wealthy man will give the bride's parents money in exchange for her hand in marriage. This happens in poor communities in Thailand very often, taking away the possibility for the impoverished girl to receive future education, among other things.
Children are being forced to live on the streets due to things like violence, abuse and poverty. These children often beg or sell small goods for just a bit of money each day. They are at risk of poor health and lack of nutrition.
Children are being left in rural communities. Thailand's economy has been moving away from the agricultural sector and more money can be made in urban areas. Parents are forced to go to work in bigger cities like Bangkok, and children are often left in the care of someone else in rural villages.Parents send money back to their family but children often only get to see their parents one to two times a year. Although the parents are making more money, leaving their children comes with a risk. Children left in these rural communities are at risk of malnutrition and developmental and behavioral issues.
Since the 1990s, child poverty in Thailand has been rapidly improving. The number of child deaths has decreased, literacy rates have dramatically increased, fewer children are malnourished and there are more children in school and less in the workforce.
There have been countless efforts made in Thailand to address child poverty but there is still a lot of work to be done. The nation has set long-term economic goals to be reached by 2036. These goals address economic stability, human capital and equal economic opportunities. These goals will be crucial going forward to help fight child poverty in Thailand.
– Ronni Winter
Photo: Flickr
https://borgenproject.org/wp-content/uploads/logo.jpg
0
0
Borgen Project
https://borgenproject.org/wp-content/uploads/logo.jpg
Borgen Project
2018-07-15 07:30:58
2019-12-17 14:40:46
10 Shocking Facts About Child Poverty in Thailand