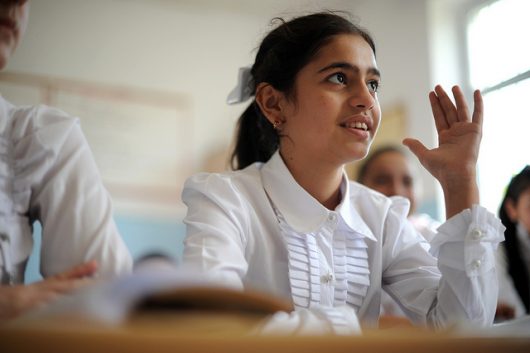 In Azerbaijan, school is compulsory from around the age of five or six to around 15 or 16 and consists of three levels of education from primary school to general secondary. In 2014, 1,474,000 children were enrolled in primary school with 11 percent of school-age children not enrolled.
Of those children who were enrolled, not all of them were able to finish the school cycle as the system is problematic when it comes to ensuring equality of girls' education in Azerbaijan. This comes from several political and economic changes; however, there are several programs attempting to resolve this discrepancy. In order to make the necessary changes, it is important to understand the current status of girls' education in Azerbaijan.
Reasons For Low School Attendance of Girls' in Azerbaijan
In 1998, 10 percent of girls in Azerbaijan were not enrolled in primary school, and the rate of girls dropping out of school was higher than their male counterparts. According to UNICEF, there are four main causes accounting for the lower attendance rates, poorer performance in school and/or higher dropout rates when it comes to girls' education in Azerbaijan:
Financial difficulties may affect both genders; however, girls will feel a greater impact. It may be hard to invest scarce resources in the education of girls when families see more employment opportunities going to boys. Instead, women are often seen as "stabilizers" which means they are expected to preserve tradition while new opportunities go to men.
Girls are viewed as being more vulnerable to both physical and cultural dangers. There is a concern of inappropriate behavior, whether by the girls themselves or by other males in the community toward the girls, that would result in the girls becoming unmarriageable. There are also concerns about the safety of young girls walking to school, the lack of female teachers and coeducational classrooms that could increase these dangers.
There is a belief that girls have different mental abilities than boys. This comes from gender stereotypes, the girls' greater societal responsibilities and classroom discrimination. Young girls also begin to lower their own expectations of how they can perform in school as a result of pressures. According to UNDP and its report on Azerbaijan Human Development, more importance is placed in providing males with higher quality education.
Girls often marry early either as a result of religious beliefs or the fact that it is socially desirable to marry young. As high as 11 percent of girls are married by the time they reach 18 with 2 percent being married by 15. Higher rates can be seen around the country where there is a greater importance to marry and start a family. It is difficult to evaluate the exact number of child brides due to a lack of statistical data.
Each one of these factors is relevant to girls' education in Azerbaijan and can be considered a reason for lower rates in female education. UNICEF has recommended strategies that could be implemented for the improvement of girls education, including alternative programs, interactive learning, bilingual education, scholarships, more female teachers, program based learning and single-sex schools.
While there is a push to have gender equality in school, more research must be done on current educational statistics. Azerbaijan has several challenges ahead while attempting to create an equal school system.
– Olivia Hodges
Photo: Flickr
https://borgenproject.org/wp-content/uploads/logo.jpg
0
0
Kim Thelwell
https://borgenproject.org/wp-content/uploads/logo.jpg
Kim Thelwell
2018-07-31 01:30:53
2019-09-08 21:05:23
A Look at Girls' Education in Azerbaijan