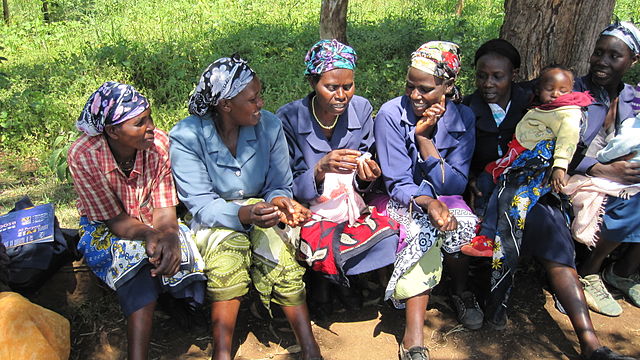 A chama is a micro-saving society that groups of Kenyans use to pool savings. Beginning in the 1960s, chamas in Kenya have become impressive tools of economic empowerment that follow the spirit of harambee, the Kiswahili word for 'all pull together.' Their community approach helps alleviate poverty by providing a means to pay tuition for children, make small-scale investments in community development, buy household items and more. More than 40% of Kenyans are chama members.
A Communal Economic Model
To form a chama, a group of around 15-35 people come together through mutual trust and pay a certain amount of money every week or month. The group then uses the money to offer very low-interest loans to members. Additionally, the group may decide to invest in an asset that members can own collectively, such as a piece of land, or in an industry, such as horticulture.
Chama members understand that fighting poverty must go hand-in-hand with psychosocial well-being. They provide each other with access to employment, help when a member gets sick, support at funerals and are joyful at weddings.
Chamas Help Avoid Economic Crisis
Chamas have been vital in helping Kenyans avoid economic crises. In the 1990s, many of Kenya's informal retailers had to close down their businesses as their suppliers became too expensive due to the liberalization of the economy. Chamas proved tremendously helpful in dealing with rising prices. For example, a group of garment traders created a chama that enabled them to switch to Chinese suppliers and keep their businesses afloat.
Chamas Empower Women
In Kenya, women often have to be financially dependent on men. However, Kenyan women, who make up half the informal sector, have been able to achieve some financial independence thanks to chamas. According to the World Bank, 55% of Kenya's urban women aged 15-25 are unemployed. Chamas can help them to avoid or escape poverty by securing financial help from their community to become self-employed. All-women chamas like Wikwatyo Wanoliwa (Hope for the Widows) have proven that women are a key demographic in the fight against poverty.
Chamas are also good avenues for community outreach. For instance, in 2017, around 80 women from chamas received training on the Kenyan electoral process and in turn, encouraged thousands of women in their communities to register to vote. Civic education is important in poverty eradication because it empowers women to match their economic decisions in chamas with democratic decisions on the ballot.
Chamas are a creative and resilient way to fight poverty in Kenya. Their intuitive approach to financial security has become so important to the Kenyan financial sector that banks have even started using it as an economic model to lure more clients.
– Frank Odhiambo
Photo: Wikimedia Commons
https://borgenproject.org/wp-content/uploads/logo.jpg
0
0
Kim Thelwell
https://borgenproject.org/wp-content/uploads/logo.jpg
Kim Thelwell
2021-07-15 08:12:00
2021-07-30 11:12:08
How Chamas in Kenya Fight Poverty